~Welcome to our Shop~Enjoy the music as you "walk" through our shop~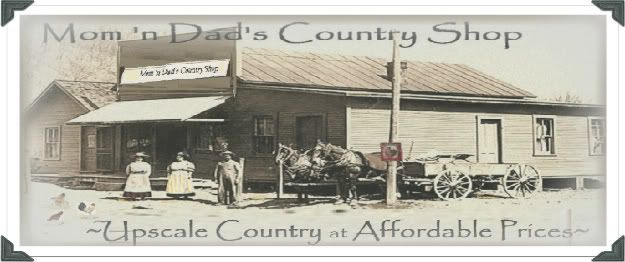 As Momma Ginny greeted all her friends who entered our home, saying: ''Go grab yourself a cup, please go and get a seat, do relax and enjoy, while you are off your feet'' We hope you do too, as you visit our store. Once you enter as a guest, you will leave as a cherished friend.~

''A faithful friend is a sturdy shelter; he who find one finds a treasure.'' ~ Sirach 6:14
~PERFECT for every day use, these colonial Prim wooden eggs are just right for your decor. Each 5 Egg set includes one egg of each color as shown. As always, we purchase directly from the Manufacturer/Design House, always firsts, BEST QUALITY.

The wooden eggs are made so that they fit in your Primitive Farmhouse decor, as well as they will fit perfectly in the decor styles of colonial, country, traditional, cottage and more. Each wooden egg is first stained, then finished and sealed with a crackling compound. The crackling then becomes part of the patina, to last for years.
You will be receiving 5 different colors of the eggs, as shown, to make this a perfect set for everyday, spring, and Easter. Each egg is completed by hand, variances, though slight are expected.
These are from K & K Interiors, a premium design house in the upscale Decor Market.


SIZE: ea egg has a flat bottom for standing, and measures 2.5" tall, and slightly wider than 1.5" The base itself is 7/8". These can be used standing, singularly, or sitting grouped in a basket.

BUYING MORE than ONE Set??? Please wait for a combined shipping invoice FROM US.

Thank you for stopping on in!! Hope you enjoy your time with us, and enjoy the music as you shop in our store~ Blessings, to you and yours!

Many of our pictures are staged using other items available in our shop. With each click to buy, you are purchasing ONE Lil' Chick.

This piece is Designed in the US, Manufactured over seas.
We are a SMOKE FREE STORE, and STORAGE FACILITY.

Payment, Shipping, and Handling Times
Payment::
If you need a little extra time to pay or need to contact us, happy to assist.

::SHIPPING::

WE OFFER: Combined Shipping.
~Terms of Sale, and all that other stuff~


* We sell multiples of the same product. IF in the event a par count in not accurate, our promise to you is refund Quickly.
God's Blessings of good health, happiness, and love, from Carla, your shopkeeper, shipper, and owner, aka Mom.