Wireless CCD Camera*4 Surveillance System with USB DVR Receiver (915G4)
SEND BY EXPRESS TO YOU, FAST! FAST! FAST!
DIY installation & very easy for operation

Uses your computer as a DVR

Remote Internet surveillance

Motion Detection

Cell Phone Access

Scheduled Recording

Audio supported

Alarm supported
Weatherproof Design

Night vision (Effective range: 10-15M)
Around 330 feet (100 meters) Transmission range without block

You are looking at our Wireless USB DVR surveillance system. With this top of the line system and the latest technology it turns your computer into a motion detection DVR system. DIY installation and easy operation is its trademark. Only need one USB cable to connect with your computer. No risky internal computer modifications or having a nest of cables to install. It's great for monitoring your home, business or family. It comes with the four cameras but you can have for this receiver which will allow you to view four different areas of your home or business with the Quad view with MultiViewer software in package. And you even can do the remote surveillance on internet or mobile phone (must support connecting internet) by our Camguard software.
Features
Wireless CCD cameras with high definition (Sharp CCD Lens 1/3") and night vision, it also can be used as wired camera with the audio and video output.

Scan feature for viewing more than one camera orderly

Motion detection sensitivity is adjustable

Can record if the motion detection is triggered

Alarm by sound, email or phone when motion detection.

Remote Internet surveillance

from any computer

Can be viewed on a cell phone

(that has an internet browser)

Software can be hidden on the computer so others do not know it is running

Contrast, brightness, Hue and color adjustment

Recording can be scheduled for certain times

Motion detection can be scheduled

Records at 30 frames per second

Length of time after motion detector is set off can be adjusted

Can take snapshots or quick video manually

Password set up for remote internet access

Camera changes from day to night vision automatically

Receiver has an additional video output for viewing image on a TV/monitor
(The four images are showing at the same time, but they will be live one by one)

The four camera can be loop showing when you set up on receiver.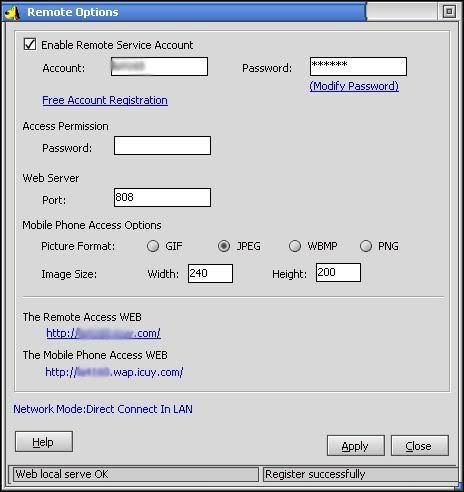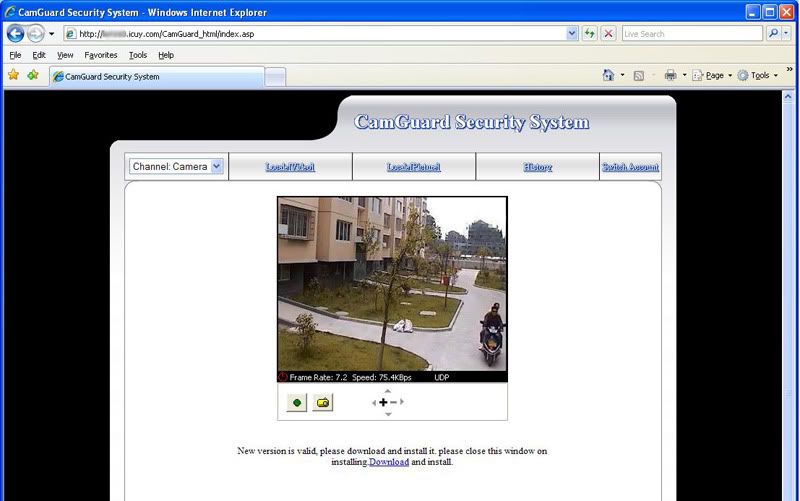 How it Works
Here's how it works. The indoor/outdoor color cameras can be installed anywhere throughout the home or business within range of the receiver. Power it up with the A/C adapter. The cameras will transmit in color until the light becomes too dim. Then they open the infrared LEDs automatically for night vision function. As light is enough the system will change back to day time color operation.
The tiny receiver is placed near your computer and connected to your computer via USB cable. Install the software on your computer. Set the parameters when to record or at what level of motion detection. The computer will record during these activities. The time/date stamped video can be viewed later or you can see live video. The video can also be viewed over the internet by another computer via a password protected server. If you have a cell phone with a web browser you can even view live pictures. Depending on the size of your hard drive, you could record for months!
Minimum system requirements
Windows 98/Me/2000/XP/Vista/7 Can't work on Windows 64Bit OS
Intel or AMD processor
Running at 466 MHZ (most computers)
64MB Ram (most computers)
10 MB of Hard Disk space (Minimum 1.0 GB hard disk space recommended for recording)
USB 2.0 Interface
Installation
o Install the software on your computer.
o Install the cameras to the place you prefer (in the available range of receiver). Power them on.
o Plug the receiver into your computer with the USB cable, power it on with adapter.
o Set up the parameters of the software (when, where and how to record, etc). Setting up the software will take a little lone time because it has more features than you will probably ever need or use.
o That it is! Congratulations!
Specifications
Camera:
Dimensions:63*63*115mm
Weight:406g
Imaging Sensor: Sharp CCD 1/3'' 420 TV lines
CCD Total Pixels: 628*582(PAL) ; 510*492(NTSC)
Infrared LEDs: 23 pieces
Minimum illumination: 0LUX/F2.0
Transmission Power: 10mW
Power Supply:12V
Consumption Current:100mA (Max)
IR LEDs Continuous Working Life: 6000 hours
Operating Temperature: -20 degrees Celsius to 50 degrees Celsius
Unobstructed Effective Range: Around 100 meters
Receiver:
Dimensions: 90*68*16mm
Weight: 125g
Receiver Frequency: ISM 2,400~2,483 MHz
CH1= 2414MHz CH2=2432MHz CH3=2450MHz CH4=2468MHz
Intermediate Frequency: 480MHz
Receiving Sensitivity: ≤-85 dBm
Power Supply: 5V
Consumption Current: 250mA
Operating Humidity: 85% RH
USB 2.0 output
Operating Temperature: -20 degrees Celsius to 50 degrees Celsius
Please Note:
1. When installing 4 cameras, the distance between each two cameras should be over 2M(7Ft), otherwise, they may interfere each other.
2. Distance between cameras and receiver shall be over 2M(7Ft), otherwise, maybe lead to interference in received images.
3. Distance between receiver and wireless camera shall be less than 100M(330Ft). If there are more barriers, such as concrete wall, metal wall, mirror wall can not over 5 layers, otherwise, maybe lead to a low quality of the receiving effect and images.
4.Following items at surrounding area of the receiver may interfere each other.
A) 2.4 GHz wireless computer keyboard or mouse
B) Wireless LAN,WLAN
C) 2.4 GHz wireless modem, wireless network card,wireless Hub and exchanger
D) 2.4 GHz wireless earphone or sound box
E) 2.4 GHz wireless phone, transmitting antenna
5. This security system can't working on Windows VISTA 64bit or Windows 7 64bit.
For the original packaging straight from the manufacturer, it includes everything that you need.
Packing list:
4 - Infrared 2.4G Wireless CCD Cameras
1-2.4G Wireless USB Receiver
4-A/C 12V adapters (for camera use)
1-USB 2.0 Cable
1-A/V connecting cable
1- A/C 5V adapter (for receiver use)
1- Software CD
1- Registration code (for software installation)
12 PCS Screws (for installing cameras)
****The TV System and the adapter will be according to your area.*****
Generally, the adapter we offer is 100-250V switch ones, and there are such four type AC power plugs as below: