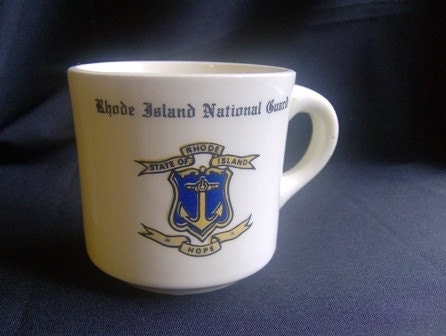 Vintage Rhode Island National Guard Coffee Mug USA pottery
Vintage Rhode Island National Guard Coffee Mug USA pottery
Rhode Island National Guard mug. Stands about 3 1/4 inches tall. Marked USA on the bottom.

White with black, blue, and tan details. Heavy ceramic.
Great for the Rhode Island Natational Guard Member, any collector of National Guard Items, and collectors of all things Rhode Island. Or for anyone who likes a neat, retro, heavy coffee mug.

Excellent condition. No damage. A few glaze skips or bubbles.

From a smoke free collection.
$6.99
Find out more
Click here to Learn more...