Description
An authentic PARKA & BOOTS – Mukluks, circa 1940-1950 and hand-made by someone from the North Pole/Arctic Circle by Eskimo, Aleut or Inuit peoples, and should fit a 13" to 15" doll – and most easily on a loose-limbed cloth doll.
Soft and flexible, the Parka measures 11" long from inside the hood to bottom of the hem, 4" across at natural shoulders with 5 ½" sleeve-length, about 5"x 5" inside with 13" interior circumference~ (small wear around inside edge of hem). Mukluks soles are 2 ¾" long and 1 3/16" across on the outside, and 2 ½" tall; the outfit comes from a non-smoking environment.
Item #91112bi
Payment
We are available Tuesday through Saturday 9:30-5:30 and we are closed Sunday and Monday. We accept all major credit cards, Visa, Master Card, Discover, American Express or you may pay with Paypal. You may call us with your charge card number. If you would like to know more about us click the ME button on the upper right hand side of any listing. Our business name is Turn of the Century Antique. You may contact us 9:30 to 5:30 Mountain Standard Time.
Shipping
NOTE: Our shipping may appear high; however, new payment and policy requirements of this site now require and define "shipping" to include: postage, handling, insurance, and delivery confirmation. Shipping costs in the listing are an estimate. Large, heavy and/or fragile items or antiques require additional time and cost to pack and ship safely. We can only supply an exact quote once the item is packed, weight, dimensions and destination are determined. All purchases are packed with care and well protected. FOR INTERNATIONAL CUSTOMERS - THERE MIGHT BE AN INSTANCE WHERE YOUR PACKAGE IS DELAYED IN CUSTOMS. WE DO NOT HAVE CONTROL OVER THIS. International shipments may have to go through customs. Customer is responsible for all duties and customs fees. We are not responsible for any delays in delivery due to customs or postal delays. Domestic shipping: we use UPS unless another carrier is specified. International shipping: USPS First Class International or Priority depending on size and weight of the package. For a lower insurance or declaration value, the buyer must submit the request by email stating the shipment will be at your own risk. We accept returns only if the item has been misrepresented.
Terms of Sale
Our layaway program for any FULL PRICE item is a third down and the balance due in 30 days for items over $500.00. We do not charge interest on our layaways and generally do not extend them over 60 days.
About Us
Turn of the Century Antiques, located on antique row, stood out from the crowd from the beginning. Set back from the street, the expanse of green lawn, attractive landscaping and convenient parking enhance the building and provide a welcome break from the usual tarmac and concrete. The face is executed in a trompe l'oeil Victorian style, and as you step through the door you will immediately realize that you've entered a special place. Dolls and toys are our passion at Turn of the Century Antiques. Our related accessories intermingle with beautiful French fashion ladies, character babies, French Bebes and fine chinas. Early fabric dolls and animals share their spaces with antique playthings. The most popular modern dolls through the 1960's stand with equal pride in their places.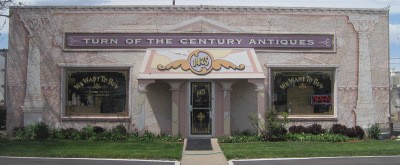 Add me to your Favorite Sellers
View My Other Items For Sale
Contact Us
We are available for you 9:30-5:30 Tuesday through Saturday. We are closed Sunday and Monday. If you would like to learn more about us, please click the "About Me" on the upper right hand corner of this page.