Triple Trumpet
Air Horn
Blasting Loud!!
135+ db !!!!
---
This 120psi Viair Kit Works on any 12 v. System
Why spend $400, $500 or even $600 on a Horn Kit that is not any louder???
---
This Air Horn
w/Viair Compressor Kit
$269.95
Retails for $476.56

*Free Shipping
Specs:
PN: ACHRSK-333
Solenoid: 12v.
PSI Max.: 180
Trumpet Diameter (all): 3.6"
Trumpet Lengths: 6.6"/ 9.1"/ 11.55"
Db: 135
Material: All Metal Base/ CHROME Plated ZINC Trumpets(Non-Rusting)
Mounting Hardware: Included
---
On Board Air System Specs:
PN: ACV20003
VIAIR 275c Compressor
*12-Volt
*Permanent Magnetic Motor
*Duty Cycle: 25% @ 100 PSI
*Max. Working Pressure: 150 PSI
*Amp Draw: 18 Amps
*Min. Ambient Temp: -40° F
*Max. Ambient Temp: 158° F

1.5 Gallon VIAIR Air Tank
Pressure Switch: 90psi-ON/120psi-OFF
Call us for 150psi upgrade
Compression Fitting for 1/4" Air Line
Overall Dimensions: 15.16"L x 5.94"W x 12.83"T
25' of 1/4"od Air Line w/Fitting
*Complete Instructions
*VIAIR 1 Year Defect Warranty
Fill Rate:
0-120psi: 2 Min. 35 Secl
90-120psi: 35 Seconds
---
Easy to install kit. Four mounting bolts, run 10 gauge wire with in line fuse from 12v battery to the kit and you are done.
Just run the air line to the horn and wire horn solenoid to a switch(see below).
You can even "T" off the horn supply line and incororate a quick connect fitting for air line to use for tire inflation.
Need Help??
Call us Toll Free
1-800-259-8627
Horn Switch(not included): Most installers wire horn solenoid to OE Switch(steering wheel switch). If you do choose to use a seperate switch, we do sell momentary button style switches.
Click Here for Horn Switch Listing
---
This Gorgeous Train Horn can be roof mounted or mounted under a chassis.
This VIAIR On Board Air System can be mounted in Truck Bed, in Car Trunk, anywhere standing upright.
Perfect For Truck & SUV
Great for Motor Homes
Super for Boats!!!
Brand New In Box
Triple Trumpet
135+db Air Horn

275c w/1.5G Tank On Board Air System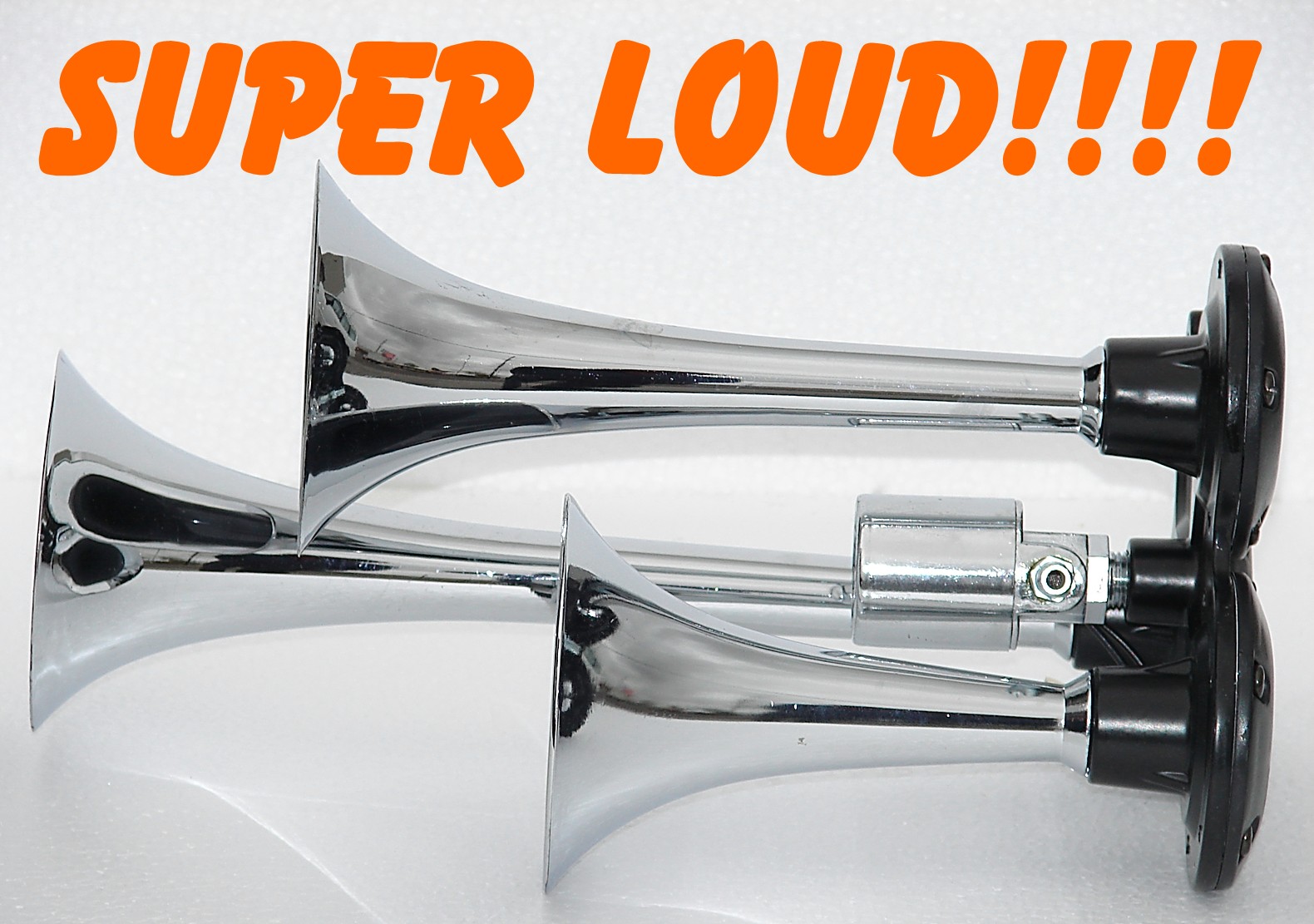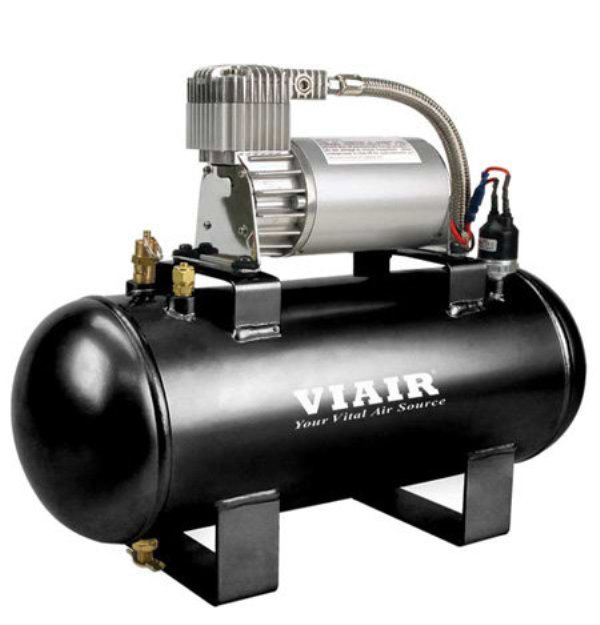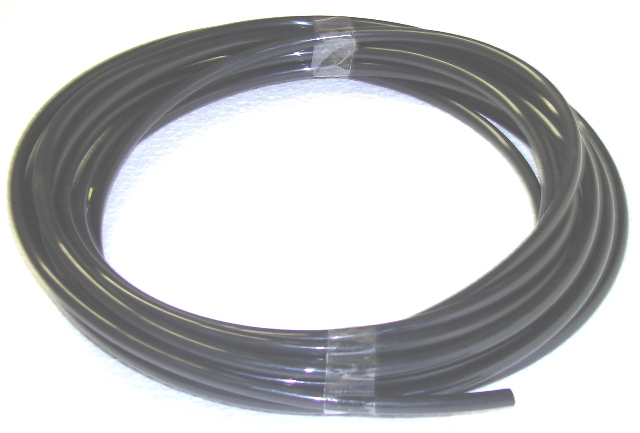 ---
WOW-Check out VIDEO below.
Actual Horn the Jeep -See Video
Of Course this video does not do justice to how loud this AIR HORN really is.
This Triple Trumpet Horn is more impressive than any of our pictures or videos can possibly do for it.
Sound like a Train coming down the tracks!!!
Folks will move out of your way fast when you blast this crazy loud Horn!!!
Don't be tricked into spending alot more money
---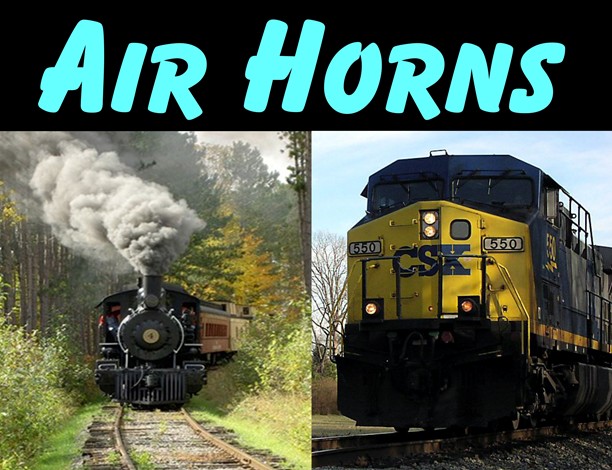 Click Above for more Air Horns
---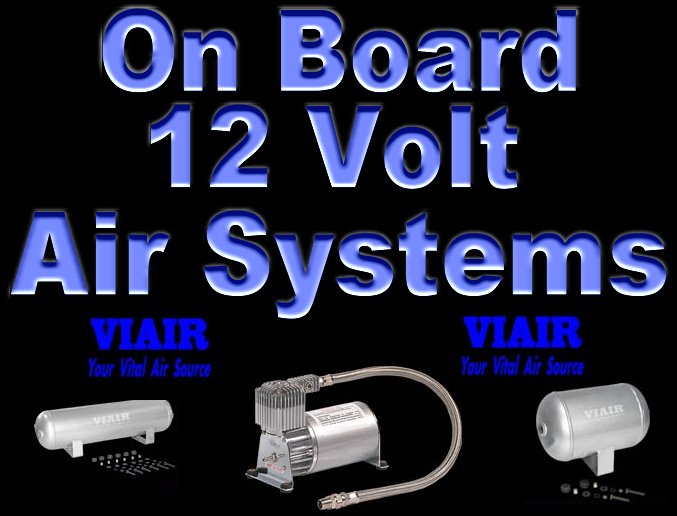 Click Above for Horn & Compressor Packages
---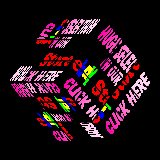 Check Out for Great Feedbacks
---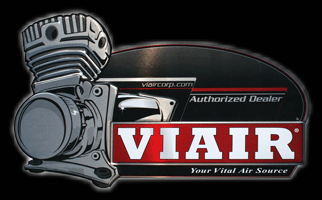 Authorized VIAIR Dealer
---