Welcome to AlohaStickers. We have the most comprehensive and unique decal designs anywhere. We only use Oracal brand vinyl which has an outdoor rating of 5-7 years under extremely conditions. We stand by the quality of our product and our feedback score says it all. If you're purchasing more than one decal and your total is more than $15, you will qualify for free shipping. PLEASE READ THE ENTIRE PRODUCT DESCRIPTION BEFORE BUYING. ALL PURCHASED ITEMS MUST BE PAID FOR IN A PROMPT MANNER.
Product Description: (Decal installation instructions and FAQ's can be found at the bottom of the listing)
Decal Description: Tribal Rose

Decal Standard Size: 1 3/4 inch (high) x 14 inch (wide)

Decal Size Options: Please select a size from the drop down menu. If a size you're requesting is not listed, simply select the size that is the next biggest from the drop down menu and leave me a note in your paypal payment form or email for the size change.

Other sizes from drop down menu:

2 1/4 inch x 18 inch

2 7/8 inch x 24 inch
Decal Color: The color that you see in the listing is white and this is the default color. Please use the color chart below as a reference and select a color from the drop down box. If you do not find a color that you like from the drop down box, please select "OTHER" as your color option and send us an email requesting a color from the color chart after your payment. We will send a confirmation email acknowledging your request. This is a single color decal and has NO background. The background color of this decal will be the surface it adheres to. There is NO clear or colored backing after installation is complete.

Bulk Order Discount: Discounts availabe for bulk orders of 10 or more items. Please email us for a price quote and we can make a private listing for you.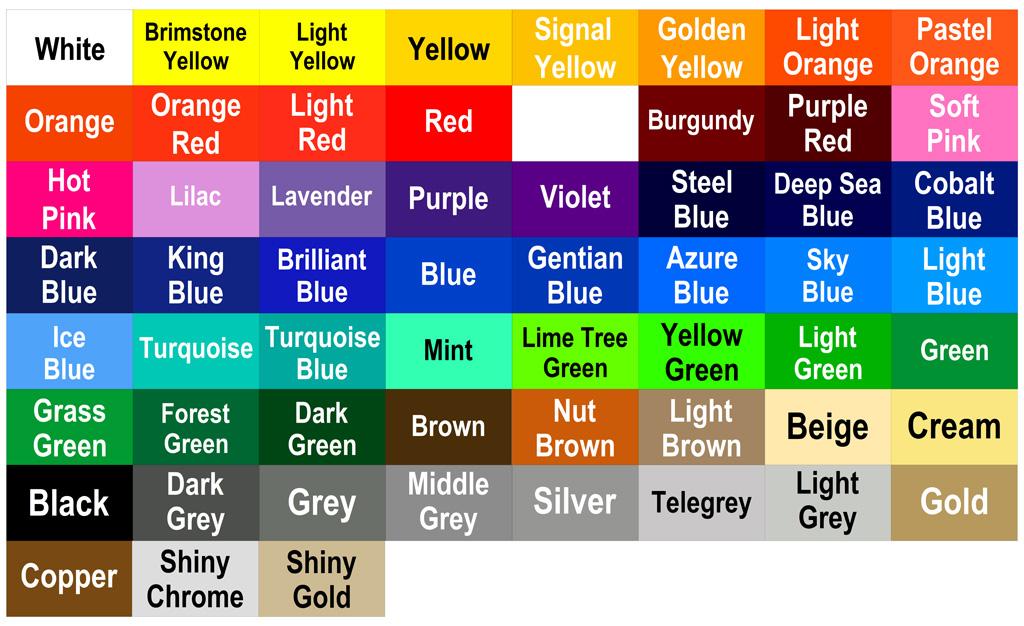 Material Description: We only use high quality Oracal vinyl. It's Waterproof and UV resistant. Easily applied to any smooth surface. 7 years outdoor, all-weather resistent. Don't fall prey to cheap vinyl material from the other guys. If they don't tell you what vinyl material they're using, chances are it's the low grade vinyl and you will have problems with fading and cracking.
Can be Applied to: Vehicle Windows, Vehicle Body Surfaces, Motorcycles, Mopeds, Bicycles, Helmets, Tractors, Trailers, Toolboxes, ATV's, Jet Skis, Surfboards, Snowmobiles, Snowboards, Skateboards, Drums, Guitars, Mirrors, Laptop Cases, Desktop Computer Towers, Boats, Hard Hats, Walls, Smooth Painted Surfaces, Store Windows, Plastic Boxes, Printers, Lockers, Doors, Laminate Surfaces or just about any surface that is smooth and clean!

Customer Service: If you have any questions please do not hesitate to email us.

Other Merchandise: Please visit our

Ebay store for unique designs and the most comprehensive selection of decals! Check out our "Hawaiian" decal selections!

Size Change: There is NO CHARGE for making the decals smaller than the standard size. Leave us a note in your Paypal payment for any size changes or email us after payment and we will send you a confirmation email. If you're interested in a size that is bigger than the largest size listed, please email us for a price quote.

Reverse (Mirror) Cut: There is NO CHARGE for reverse cutting a decal. This is usually done when you order a pair of decals and want one of them to face the opposite direction. Leave us a note in the process of making your Paypal payment if you want one of the decals to be reversed cut.
Payment Information:
Payment Methods: Payment can be made by Paypal Only. All major credit cards are accepted by Paypal.

Requirements: Payment should be made within 7 days of purchase date. (If payment is not received within 7 days of purchase date, the buyer will be sent an "Unpaid Item Notification".)

Notifications: Buyer will receive an automated email after payment is received.
Return Policy:
We stand by the quality of our product. If you are not happy with your decal when it is received, please send the decal back in it's original condition and we will refund your money. All return items may incur a 15% restocking fee if the returned decal is found to be damaged or not in the condition when it was received. All returned shipping fees are to be paid by the buyer.
Feedback Policy:
Please do not leave negative feedback. There is always an amicable solution to most problems. Please contact us first if there are any problems and we will try our best to come up with a satisfactory solution for you.
Shipping Information:
Shipping Service: We use the United States Postal Service and most decals are shipped letter mail. For larger decals, we ship them either in large envelopes or tube mailers. Orders usually shipped within 48 business hours of cleared payment. We do not ship on the Federal Holidays or on Saturday and Sunday. Customers within the United States (50 states) please allow 3-8 business days for delivery. For international customers, please allow 14-45 days for delivery. All customs duties and fees are to be paid for by the buyer.




Ship to Locations: Orders are shipped to Buyer's current Paypal Shipping Address. Additional fees will be charged if the Order is returned to the Seller by the Postal Service or not Received by the Buyer due to an Incorrect Mailing Address. Please keep your Paypal address current. There are no exceptions to this rule. You can easily edit your Paypal email address and it only takes seconds.

Combined Shipping: If you are ordering multiple items, please combine them into one order if you want to qualify for a flat shipping fee or free shipping if your order is over $15.
Decal Application:
Surface Preparation: The surface temperature should be about room temperature or cool to the touch. Do not apply decal to a hot or extremely cold surface. Application surface MUST BE completely clean and free of any dust, oils, wax or other debris. If you are using Windex or another ammonia-based cleaner to clean the surface, dry the area completely before applying the decal. The ammonia interferes with the adhesive. Any surface contamination such as bad bodywork, rust, dust or other debris will show through and spoil your final result.

How to Apply:

Step 1: Lay the decal on a flat smooth surface with the Transfer Tape facing upwards (see picture below).

Step 2: Using your finger, firmly rub over the entire Decal. This will help your Decal adhere to the clear Transfer Tape when you peel it away from the paper backing (see picture below).

Step 3: Flip the decal over so the paper backing is faceing up (see picture below).

Step 4: With one hand, hold the transfer tape down and using the other hand, slowly and carefully, peel the paper backing away from the Decal and Clear Transfer Tape (see picture below). Do not peel too fast as you may end up ripping the Decal. If the decal does not want to peel off the paper backing, use your finger and firmly rub the area of the decal that does not want to come off. Continue peeling the paper backing away from the Decal and Transfer Tape. Please be patient as this process may take some time if this is your first time applying vinyl decals. (Tip: You can "force" the Decal onto the clear Transfer Tape by carefully bending the paper backing as you're seperating it from the Decal. Be careful not to "crease" the Decal if you use this trick).

Step 5: Once you have completely removed the paper backing away from the Decal and Transfer Tape, you're ready to install it on the clean surface of your choice (see picture below). You can discard the paper backing at this time.

Step 6: This next step is critical and you only have one chance at doing this right. Slowly and carefully apply the Decal and Transfer Tape to the surface destination (see picture below; the decal and transfer tape is applied to a passenger car window). Once the Decal and Transfer Tape is adhered to the surface, firmly rub all areas of the decal (especially the edges) to ensure full adhesion.

Step 7: Slowly peel the Transfer Tape away from the decal and surface (see picture below).

Step 8: Now you are done! If you encounter air bubbles in the process, you can remove them by using a sharp needle and popping them. Try not to do this for really small bubbles because they will disappear over time. If your decal is installed on your car, care must be taken to prevent damage to your decal when you wash it. Gently wash the decal with a damp cloth and using a dry towel, "dab" at the decal to dry it. Your decal should look like the hibiscus flower on the car window below. Mahalo and God Bless!
Frequently Asked Questions (FAQ's):
1. How do I choose a color that is not in the drop down menu but found in the color chart? Simply purchase the decal as the default color and leave me a note in your paypal payment form or email me for the color change.
2. How can I choose a size that is not in the drop down menu? Simply select the next biggest size from the one that you're requesting and leave me a note in your paypal payment form or email me for the size change.
3. Can I get the decal facing the opposite direction? Yes, simply purchase the decal and leave me a note in your paypal payment from or email me requesting a "reverse cut".
4. Can these decals go on the inside of car or store windows? Yes but make sure your windows are not tinted because the decal will not show through. You would also need to ask for the decal to be reversed cut so it can be seen normally from the outside.
5. Are these decals reuseable like the static cling-on? No, these are not static cling-ons. They can be applied only once.
6. My window has dark tint, what color do you recommend? White or any bright color such as yellow because it will stand out the most on any dark surface.
7. Are these decals permanent? No, they can be removed by peeling them off of the application surface.
8. Is it difficult to install larger decals say 14" or bigger? Yes, it could be quite challenging if it is your first time applying decals. It is recommended that you start out with a smaller decal (5 inch or so) so you get the feel for it. Or you could find someone who is experienced to installing decals and ask them for help. You can find these people at your local Car Tint Shop or Sign Store. I'm probably the only Vinyl Decal Seller who will tell you this but you only got one shot at applying your decal correctly and in the right spot. If you're unsure, don't be afraid to get help.
9. Why should I buy from AlohaStickers? Our vinyl material is Oracle 651 brand vinyl. Avoid sellers who won't tell you but offer lower grade vinyl. We usually ship your product out the next business day so you get a quality product ASAP. All of our decals are made in Hawaii. Our Hawaii designs are popular here on the islands and can be seen all around on cars, windows, helmets, laptops, mopeds or just about anywhere that you can stick a decal! Get a piece of Aloha and share it with the rest of the world!

---
On Jul-07-10 at 05:09:02 PDT, seller added the following information:
Sellers: Delight buyers. Get your own map of past buyers.
---
On Mar-20-11 at 13:10:25 PDT, seller added the following information: