GREEN ENERGY SOURCE
CONVERTS WASTE HEAT INTO ELECTRICITY!
USING THE SEEBECK EFFECT!
Quality - Performance - Reliability From the USA
This is not a cheap item shipped from CHINA!
WARNING!
DON'T BE FOOLED BY CHINA SELLERS!
SOME SELLERS FROM CHINA ARE TRYING TO PASS OFF CHEAP
TEC (Thermoelectric Coolers) as TEG (Thermoelectric Generators).
LOOK AT THE DESCRIPTION CAREFULLY BEFORE YOU BUY.
THIS AMAZING SEMICONDUCTOR DEVICE CAN BE USED TO CONVERT WASTE HEAT INTO ELECTRICITY OR WHEN POWERED BY A DIRECT CURRENT IT WILL ACT AS A HEATPUMP MAKING ONE SIDE COLD AND THE OPPOSITE SIDE HOT.
THERMOELECTRIC POWER GENERATION
TEG Module
***SAVE 50% S/H WITH ADDITIONAL PIECES***
Designed Specifically for POWER GENERATION

from
Thermal Enterprises
Unsurpassed QUALITY and PERFORMANCE!
US QUALITY - SHIPPED FROM THE USA
GET YOUR ITEM QUICKLY!
WE USUALLY SHIP WITHIN 1 BUSINESS DAYS
Brand New Thermoelectric Power Generator
40mm TEG
Sealed for moisture protection
Thermal Elements formulated for optimum Seebeck (Power Generation)

Can be used for power generation, cooling or heating applications

Module comes sealed and complete with insulated lead wires
These modules are manufactured specifically for power generation but they can also be used for cooling and/or heating applications. They are far superior than standard peltiers for power generation applications. Each module contains 127 junctions and 254 thermal elements that are formulated for optimum Seebeck. Unique construction offers greater strength in compression (150-300 psi assembly compression).
These Devices are Known as:

TEG
TEC
Thermoelectric Generator
Thermoelectric Cooler
Thermoelectric Module
Peltier Junction
Peltier Plate
Simply the best quality thermoelectric devices found anywhere. Take a look at our feedback to see some of the comments from our many satisfied customers!
Please Note: If you are using TEG's or TEC's in your product or if you use large numbers of these devices we can be of help. We offer more than 40 different models with discount pricing for large quantity purchasers. If you would like our complete product listing or a price quote for large quantity purchases please contact us and provide your email address.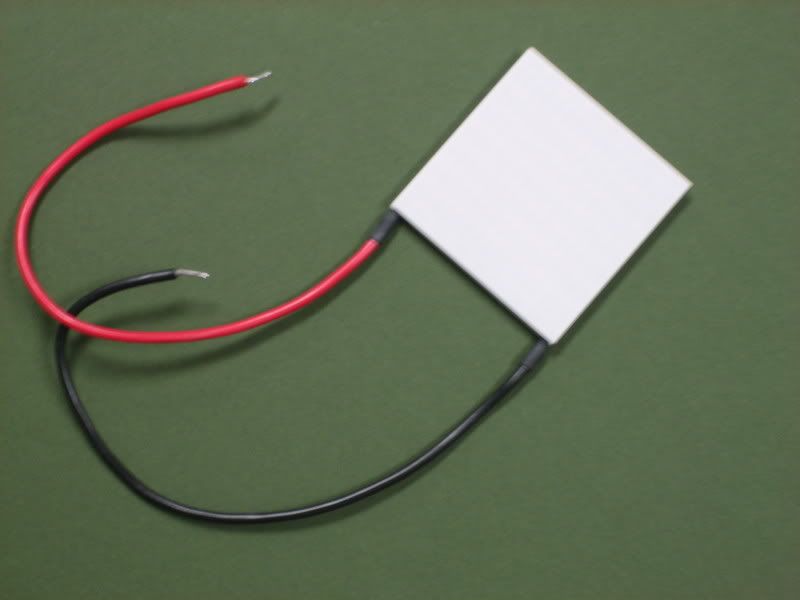 This auction offers brand new factory fresh Laboratory Grade TEG Modules from Thermal Enterprises. Each comes with 6-inch insulated leads and are perimeter sealed with RTV Silicon for moisture protection . These amazing can be used for power generation, cooling or heating. Remember, always use with an appropriately sized heat sink.

Specifications
40mm x 40mm x 3.3mm
Operates from 0-16 volts DC and 0-10.5 amps
Operates from -60 deg C to +180 deg C
Each device is fully inspected and tested
Fitted with 6-inch insulated leads
Perimeter sealed for moisture protection

This is a brand new factory fresh device.