Island Wear, Hawaii
"Gifts from Paradise"
Coral Orange Giant Hibiscus Sarong/Wrap
Wrap this sarong into a dress, skirt, swimsuit cover-up
Use as a shawl, curtain, table-cloth, or wall tapestry
Size: 65" x 46"
fits xxs to xxl
plus 2" fringes on short ends
100% Rayon~Very Soft/Flowy~Great Quality!
Many more colors & prints inside our

!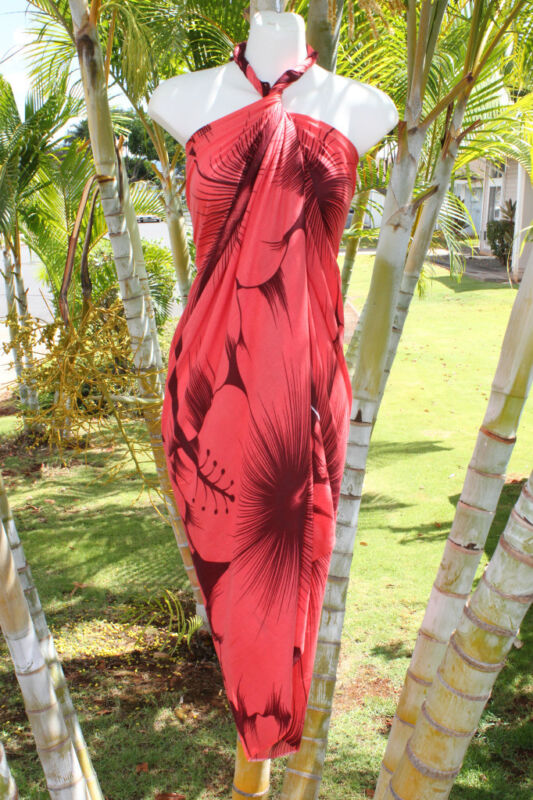 WATCH THIS VIDEO TO LEARN MANY DIFFERENT
WAYS TO TIE A SARONG:
http://www.youtube.com/watch?v=0PMkc1XDtKU
IMPORTANT NOTE:
A sarong is a versatile piece of fabric to be wrapped around one's body.
The wrapping style you can achieve is dependent on your body size.
If you are on the smaller side, there's more to material to wrap,
and less material if you're larger. A size small & medium woman
can wear this sarong as a halter dress (as pictured). This style requires
a lot of twisting at both ends of the sarong to bring it behind the neck
and securing it with a knot. A size large to 2XL woman can wrap
the strapless dress style by tying a knot in front at the chest
or also as a skirt by wrapping on bottom half of the body.
Please consider the dimension/size of the sarong before purchasing.
Check out our other items!
Be sure to add us to your favorites list!
CUSTOMER SERVICE
(808) 203-3847
Hours: 8:00 am to 6:00 pm ~ Pacific Standard Time Zone