YOU ARE BIDDING ON 2000-us
New-in-Box! dr. tech HDDV-2000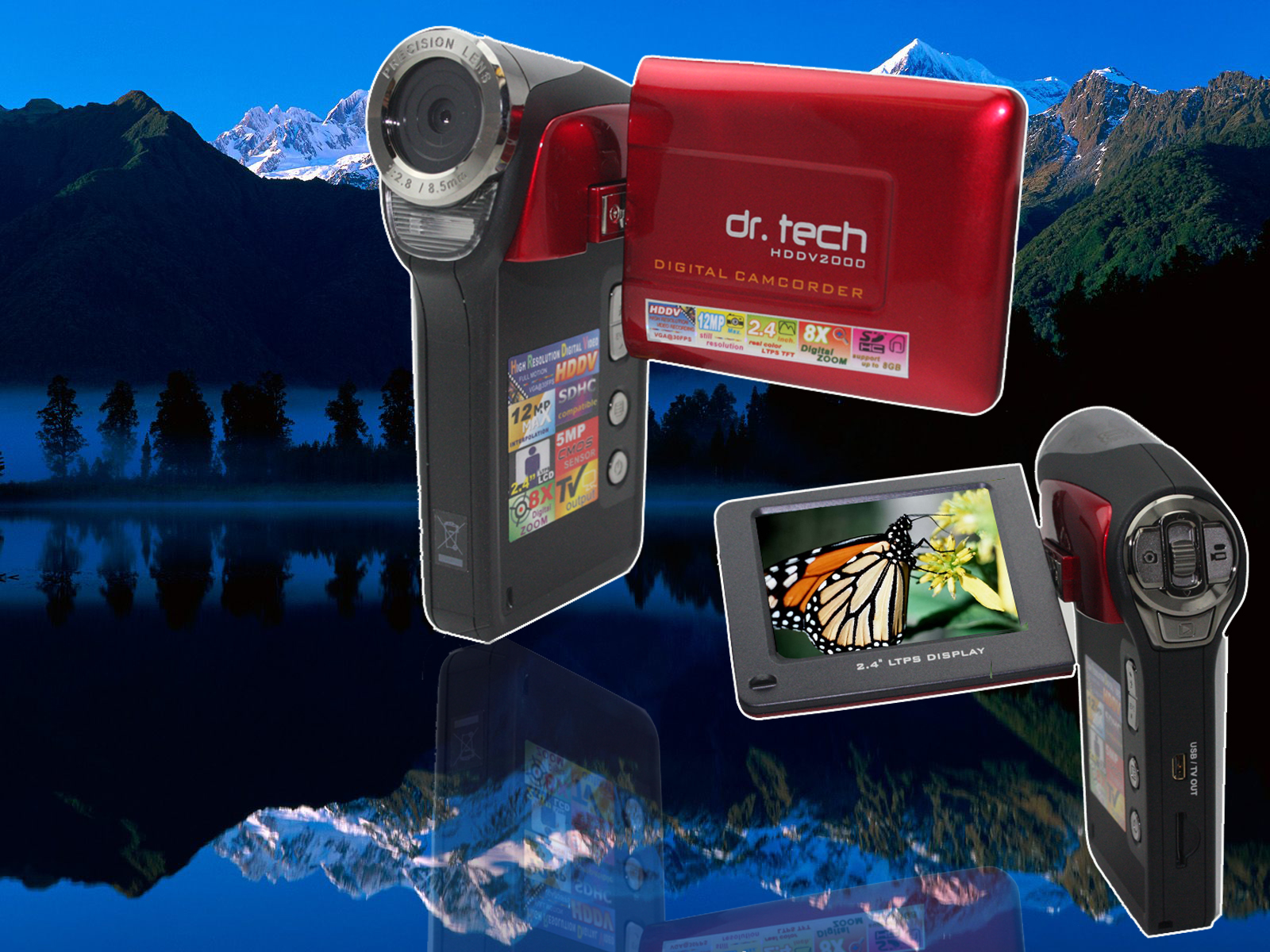 Introducing the "New Design"dr. tech™ HDDV-2000 Digital Video Camera. Multi-Function device acts as a High Definition HD 1280x720p Full-Motion Digital Video Camcorder • a powerful 12 Mega Pixel Max. Output Digital Camera • 8X Digital Zoom • a USB Mass Storage Device • and Memory Card Reader!
THIS ITEM IS A "NEW IN BOX" VIDEO CAMERA WITH FULL MANUFACTURERS WARRANTY!!!
BID WITH CONFIDENCE!!!
Why wait for the auction to end
Just CLICK HERE to


with the Memory Card* and enjoy FREE SHIPPING**!!!
*Buy It Now ONLY **free shipping within US ONLY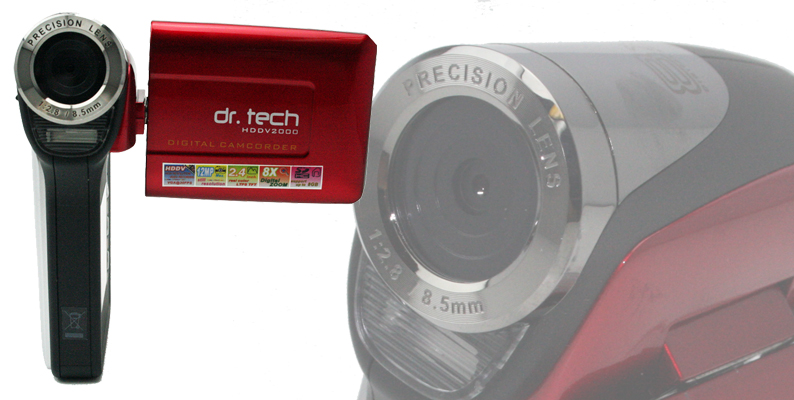 TRUE HD VIDEO CAMCORDER
HD (HIGH DEFINITION)
This camcorder records HD videos at 720p while others will only record at D1 480. It will also record at a steady 24FPS (frames per second) which combined with the HD, creates a superb and flawles picture. The dr. tech ™ HDDV-2000 excels at recording beautiful, high-sensitivity movies. Its Omnivision 5-megapixel CMOS Sensor and 8x digital zoom help you capture the essence of a scene as it unfolds. The dr. tech ™ HDDV-2000 also uses advanced technology to adjust the sensitivity of the sensor from EV+2.0 to EV-2.0 based on the position and light environment of the camera. And, auto-focus and wide range of focus dynamics work hand-in-hand to ensure trouble-free operation.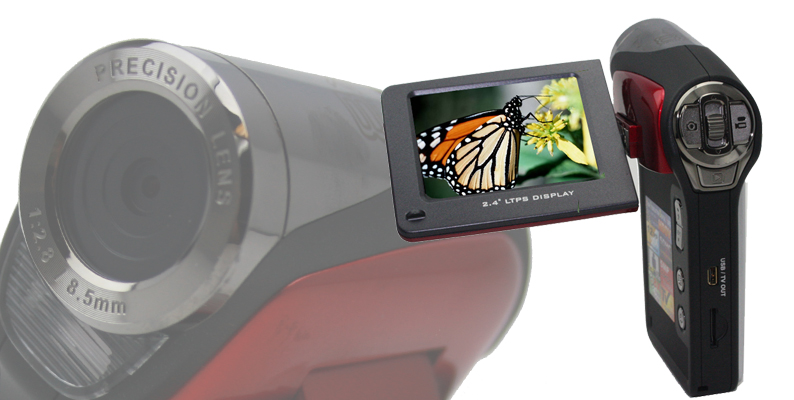 Personal Digital Movie Player
This is not only an Video Camera from what you may have gathered. This is also the best and only multimedia player you will ever need. watch videos and movies stored in your SD(secure digital)memory card by inserting it in your camcorder's memory card slot or use the TV-Out cable provided to watch it on your T.V.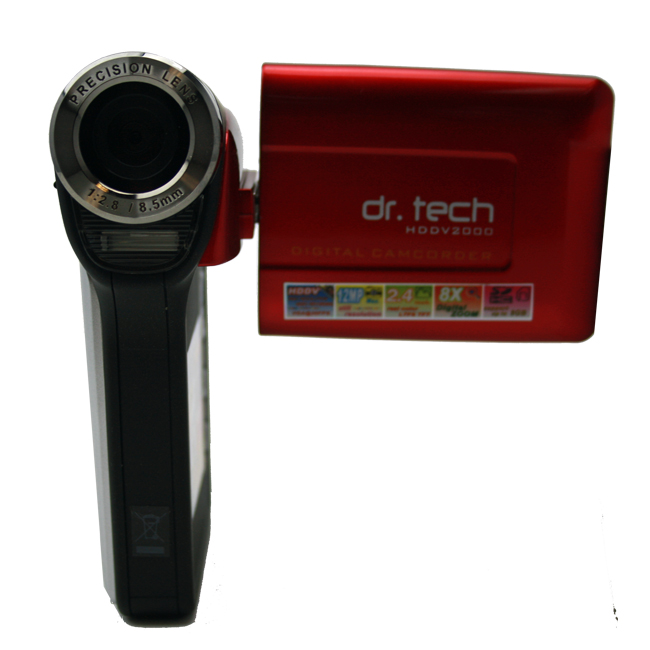 Sharper Still Image - High-Performance 12MP Max. Digital Camera
Now your snapshots can look sharper than ever. dr. tech ™ HDDV-2000 combines a highly responsive primary-color CMOS sensor with a Real-Time interpolation technology that enable to take digital quality pictures up to 12 mega pixels. It 's proprietary algorithm uses a pixel-interpolation filter to convert images collected by the sensor to the recorded equivalent of 12 megapixels (i.e. 3920X2940 pixels). Whether you view them on a large monitor or print them out on photo paper, the HDDV-2000's vibrant, high-resolution images are sure to impress.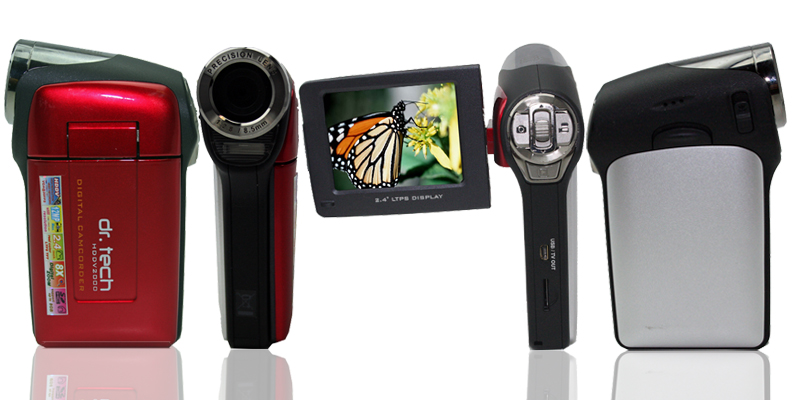 Large, Easy-to-View, 2.4-Inch TFT LCD Monitor
The large, 2.4-inch TFT LCD monitor built into the dr. tech ™ HDDV-2000 makes it easy to view and confirm images before and after shooting. The monitor rotates through 270°, so you can position it at your preferred angle. This lets you keep your subject clearly in view, whether you're shooting high, low or at yourself.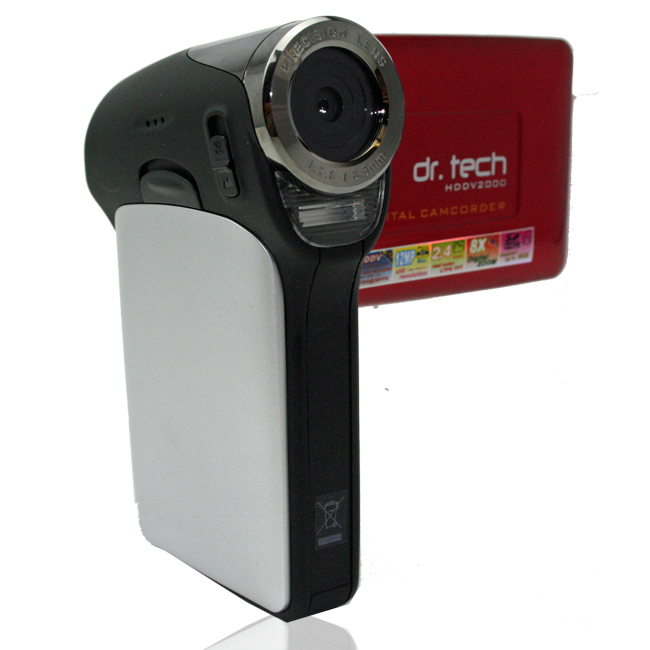 Light and Compact for easy One-Handed Shooting
The classic HDDV "pistol-grip" design enables comfortable one-handed shooting, without the wrist fatigue and shaking you get from conventional designs.This Camera is Built to Last - High Impact Polymer. This is no toy camera made out of easy to crack plastic like other models on Ebay. Solid construction!

Fast menu setting
An upgraded concept of the Smart Touch Button that allows you to set the menu faster and more precisely by seeing the menu on the LCD
Transverse Panel Design
Swivel Screen (270° Front & Back Rotation). Compact and Slim Type body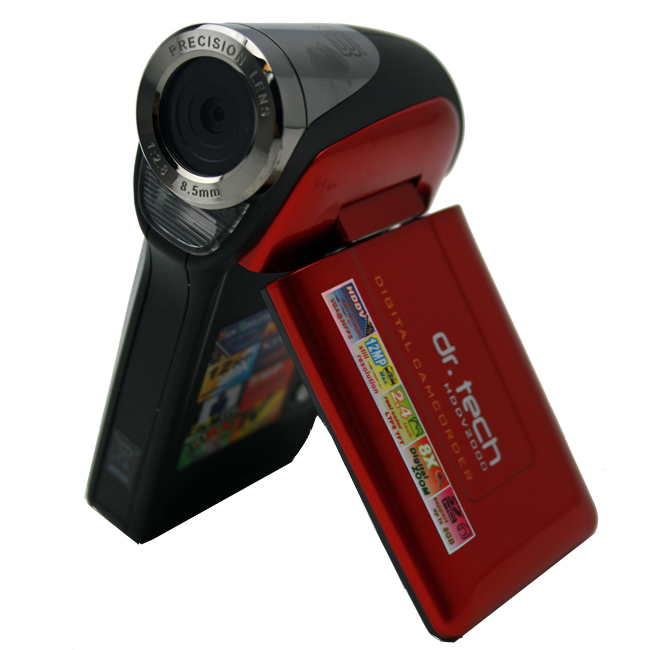 dr. tech Innovation Enhances Your Experience
The dr. tech ™ HDDV-2000 offers 13 levels of focus adjustment, along with exposure correction of up to ±2.0 EV in 0.3 EV steps. You can also freely adjust aspects of picture quality, such as sharpness and saturation, to suit the scene you're recording.
Mechanical Shutter For True Photography
New for 2010 - dr. tech has also added a Mechanical Shutter. Most Digital Cameras have what's called a "virtual or electronic shutter". The HDDV-2000 however has a "Mechanical Shutter". The HDDV-2000's shutter works just like shutters in film cameras. A spring loaded plate that interrupts the light.
Why is a Mechanical Shutter Better?
-Less shutter lag
-Less Blur from movement
-Better quality photos
-Wider range of shutter speeds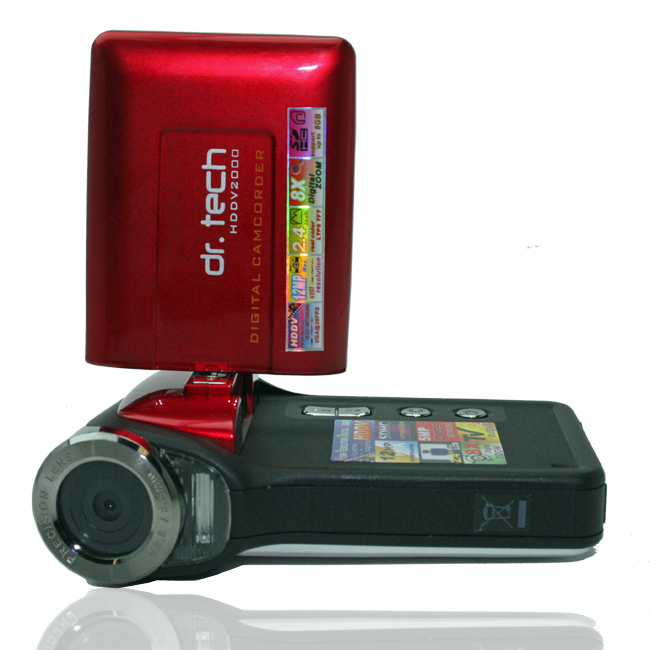 Fits easily in pocket or purse
Measuring just 4" x 2" x 0.8 " inches (H x W x D) and weighing only 4.5oz (body only), the dr. tech ™ HDDV-2000 is shaped to fit your active lifestyle. Take it with you wherever you go, and you can shoot movies and photos whenever the urge strikes you. It is power on the go with two AA-size batteries (or rechargeble AA battery). You don't need to worry about running out or recharging batteries. Since AA-size batteries can be purchased at any store, simply get new ones locally.
Other Features
Built in Microphone and Speaker - Hear and see the video during playback on the camera itself.

USB mass storage disk - Store any type of file like a portable hard drive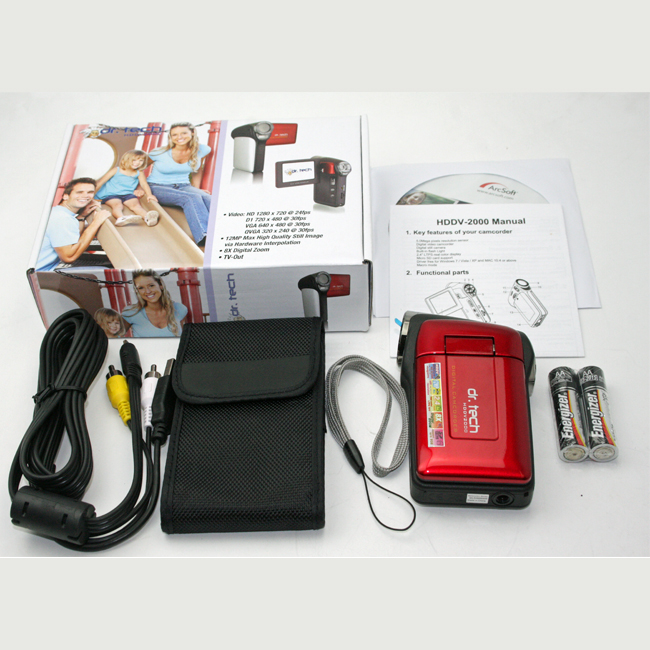 PACKAGE CONTENT
Brand-New dr.tech HDDV-2000 High Resolution Digital Video Camera
2 X AA Alkaline Batteries
Video Cable - to connect to TV
Camera Pouch
USB cable
Wrist Strap
Quick Start Guide
CD - User Manual, software and drivers
Arcsoft Software
THIS ITEM IS A "NEW IN BOX" VIDEO CAMERA WITH FULL MANUFACTURERS WARRANTY!!!
Why wait for the auction to end
Just CLICK HERE to


with the Memory Card* and enjoy FREE SHIPPING**!!!
*Buy It Now ONLY **free shipping within US ONLY

Specification

Image Sensor

5.0 Mega pixel CMOS sensor

DV:HD(1280x720),up to 24fps; D1(720x480), up to 30fps; VGA (640x480), up to 30fps; QVGA (320x240), up to 30fps
DC:12M pixel resolution 4032x 3024 (Hardware Interpolation)
8.0 Mega pixels 3264 x 2448 (Hardware Interpolation)
5.0 Mega pixels 2560x1920
3.1 Mega pixels 2048x1536
1.3 Mega pixels 1280x960
VGA 640x480

Lens

F/2.8 f=8.5mm

Focus range
0.5m. ~ Infinity
Macro mode
11cm – 18cm
Digital zoom

8x

Flash strobe
Built-in ( Auto / force / off )

LCD display

2.4" real color LTPS TFT

Viewfinder
Monitor screen
White balance
Auto / Daylight / Cloudy / Tungsten / Fluorescent
Micro SD Card
Micro SD Card supports up to 8GB
File format
Picture: JPEG, Video: AVI,
Self timer
10/2/10+2 seconds/off
PC interface
USB 2.0
Power source
2xAA alkaline batteries.
TV-out
NTSC/PAL

System Requirement

Operating System
Windows7/ XP / Vista or above
Mac 10.4 or Above
CPU
Pentium III or above
RAM
At least 64MB
Interface
USB port
CD
4x speed CD ROM or above

* Specifications and product design are subject to change without notice.