---
ARTIST: (SEE PHOTO) 4-03-09

TITLE: YOU AIN'T HEARD NOTHIN' YET

LABEL: RCA LSP-4334

THE WHOLE PACKAGE IS SEALED TIGHT.

PLEASE CHECK MY OTHER AUCTIONS AND FEEDBACK AT AS-TIME-GOES-BY.

MOST RECORDS ARE CLEANED (WHEN NECESSARY) ON A VPI RECORD CLEANER AND VISUALLY GRADED EXCEPT IN CIRCUMSTANCES REQUIRING PLAY.


WE WILL BE LISTING THOUSANDS OF RECORDS IN OUR EBAY STORE OVER THE NEXT MONTH!!

ALL PAYMENTS DUE WITHIN 5 DAYS OF AUCTION CLOSE (UNLESS ALTERNATE ARRANGEMENTS MADE). WE SHIP ON MONDAYS AND/OR TUESDAYS DEPENDING ON VOLUME.
---

LP SHIPPING PRICES
(1-LP) $9.50 USPS PRIORITY SHIPPING & HANDLING WITH FREE TRACKING (IN THE CONTINENTAL US) $2.50 FOR EACH ADDITIONAL LP SHIPPED TOGETHER.
MEDIA RATE WILL BE $4.00 + $1.50 EACH ADDITIONAL LP

INTERNATIONAL SHIPPING/HANDLING PRICES FOR LP'S (UN-INSURED FIRST CLASS INTERNATIONAL (AIR)):
ASIA, EUROPE, AUSTRALIA (1LP) $17.50 (2) $23.00 (3 OR MORE PLEASE INQUIRE)
CANADA (1LP) $9.99 (2) $14.00 )3 OR MORE PLEASE INQUIRE)

45 RPM SHIPPING PRICES
WINNER PAYS $7.49 SHIPPING/HANDLING (PRIORITY MAIL W/FREE TRACKING) OR
WINNER PAYS $3.99 FIRST CLASS

INTERNATIONAL SHIPPING/HANDLING PRICES FOR 7" 45'S (UN-INSURED):
ASIA (1-2 45'S (OR 1-EP) $10.00 (3-4 45'S OR 2-EP'S) $11.50
EUROPE (1-2 45'S OR 1-EP) $10.00 (3-4 45'S OR 2-EP'S) $11.50
CANADA (1-2 45'S OR 1-EP ) $7.00 (3-4 45'S OR 2 EP'S) $9.00

PLUS INSURANCE (DOMESTIC ONLY):
$1-$50 VALUE = $1.65


$51-$100 VALUE = $2.05


$101-$200 VALUE = $2.45


$201-$300 VALUE = $4.60


ADD $.90 FOR EACH $100 OF ADDITIONAL INSURANCE


SATISFACTION GUARANTEED. WE HIGHLY RECOMMEND PURCHASING INSURANCE, WE ARE NOT RESPONSIBLE FOR ITEMS DAMAGED IN TRANSIT.

**TEXAS RESIDENTS RESPONSIBLE FOR STATE SALES TAX**

RECORD GRADING POLICY

Near Mint (NM): A nearly perfect record. There may be one or two small inaudible defects. The record should show no obvious signs of wear. A 45 RPM or EP sleeve should have no more than the most minor defects, such as almost invisible ring wear or other sights of slight handling. An LP jacket should have no creases, folds, seam splits or any other noticeable similar defect. No cut-out holes, either.

Near Mint Minus (NM-): A record that should play mint but has a few slight visible marks. The album will have as much luster as an NM, there just may be some superficial scuffs from the sleeve or very light hairlines that shouldn't be audible. An NM- album cover subjectively fits somewhere in between VG+ and NM.

Very Good Plus (VG+): A Very Good Plus record will show some signs that it was played and otherwise handled by a previous owner who took good care of it. Record surfaces may show some slight signs of wear and may have slight scuffs or very light scratches that don t significantly affect play. Slight warps that do not affect the sound are OK. The label may have some ring wear or discoloration, but it should be barely noticeable. The center hole will not have been misshapen by repeated play. Picture sleeves and LP inner sleeves will have some slight wear, lightly turned-up corners, or a slight seam-split. An LP jacket may have slight signs of wear also and may be marred by a cut-out hole, indentation or corner indicating it was taken out of print and sold at a discount.

Very Good (VG): Many of the defects found in a VG+ record will be more pronounced in a VG disc. Surface noise will be evident upon playing, especially in soft passages and during a song s intro and fade, but will not overpower the music otherwise. Groove wear will start to be noticeable, as will light scratches (deep enough to feel with a fingernail) that will affect the sound. Labels may be marred by writing, or have tape or stickers (or their residue) attached. The same will be true of picture sleeves or LP covers. However, it will not have all of these problems at the same time, just two or three of them.

Good (G), Good Plus (G+): Good does not mean Bad! A record in Good or Good Plus condition can be put onto a turntable and will play though without skipping. But it will have significant surface noise and scratches and visible groove wear. A jacket or sleeve will have seam splits, especially at the bottom or on the spine. Tape, writing, ring wear or other defects will start to overwhelm the subject.

Poor (P), Fair (F): Below good. imperfections will be described.



We keep regular business hours Mon-Fri. We will try to answer all questions ASAP (or when possible on evenings and weekends). Note: Please include the EBAY auction number when inquiring about specific items before and after the auction ends.

Winning Bidder Notices are sent out automatically for each item won as soon as each auction ends. Please do not email us right after an auction ends, but instead wait until you get the WBN email from us. We can combine multiple purchases for shipping savings. Please contact us for pricing.

FEEDBACK will be posted on all items after they are shipped. GOOD LUCK!!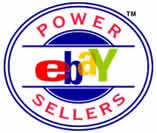 Payment

---







I accept the following forms of payment:
PayPal
Direct Offline Credit Card Payment: Visa/Master Card, American Express, Discover
Shipping & Handling
---
| | | |
| --- | --- | --- |
| | | US Shipping |
$4.00 USPS Media Mail®
$9.50 USPS Priority Mail®

US Insurance recommended, prices calculated at checkout

| | | |
| --- | --- | --- |
| | | International Shipping |
$17.50 ASIA, EUROPE, AUSTRALIA
$9.99 CANADA

International Insurance recommended, prices calculated at checkout