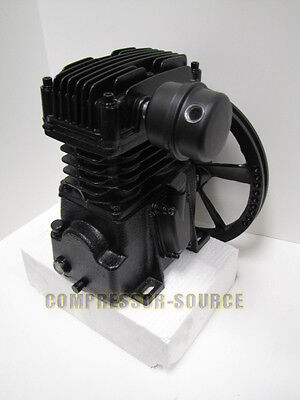 -New Schulz brand cast iron model 18 air compressor pump with free intake filter-
Filter as seen in picture is included with the pump!!
This listing is for a Schulz model 18 cast iron oil lubricated air compressor pump. This is a long lasting industrial quality pump with a 1 year manufacture warranty. This pump will work with 2, 3 or 5 horse power peak motor, these sizes of motors are usually 15-19 AMPS if your 5HP motor is 22 AMPS or larger you can use a larger pump than this. Keep in mind if using a 2 horse power motor you will have to spin the pump slower so it does not overload the motor, so the CFM output will be lower. With a 2 HP motor your CFM will be around 6-8 CFM on average, with a 5HP motor spinning at max RPM, your displacement CFM will be about 16-18. We recommend that you spin this pump between 700 and 1200 RPM for best results. Max displacement CFM is 18. This makes a great replacement pump for most any air compressor with a 2 - 5 HP motor with its slotted base it will adapt to alot of tanks with out any modification, if it does not fit your current pump mounting holes, new holes can easily be drilled. The head and cylinder of this compressor also can be flipped around to put the air outlet / discharge on either side of the pump for easy installation. If the fly wheel is a different size than the pump you currently have it is easy to calculate what size pulley you will need to put on your motor, (you take motor RPM x diameter of motor pulley and divide it by diameter of the pump pulley) that will give you the RPM you pump will be spinning. Dimensions and Specs below.
Specifications:
- 2 cylinder
- 3" pistons
- 125 PSI

- Oil lubricated
- 1 year warranty
- Fly wheel diameter 11.5"
- Fly wheel uses A section belts
- Air discharge port on head is 1/2" female pipe thread which measures about 3/4" in diameter
- Oil sight glass located on front of the pump for easy viewing
- If looking at the front of the pump where sight glass is located the bolt mounting holes are 5 7/8" wide center to center, the bolt holes are slotted from front to back so the bolt holes from the front of the pump to the back can be anywhere 4 3/4" center to center to 6 1/4" center to center.
- Total width of pump 7"
- Total depth including fly wheel 12.5"
- Total height a little over 12"
-DON'T FORGET THE INTAKE FILTER IS INCLUDED!!
THIS ITEM ONLY SHIPS TO THE CONTINENTAL 48 STATES, DOES NOT SHIP TO ALASKA, HAWAII, OR PUERTO RICO
If you have any questions about this item or other eBay items please feel free to contact us, our contact information is below. Thanks for looking and happy shopping!
**Combined Shipping Information**
We offer combined shipping on almost all items! (Exclusions are items with free shipping and items that are large and boxed separately)
During the time of checkout on purchasing multiple items, shipping costs should automatically combine.
If for some reason your shipping total is not combined and we ship the items together will will refund the extra amount paid when the items are shipped.
(Note: If there is any problems, you would like a shipping quote, or you have any other questions feel free ask at any time our contact information is below)
We strive to have the fastest shipping! All items are in stock and ship out within 24 hours Monday-Friday.
If next day shipping is needed on a eBay item please call us at 1-888-396-8676.
If there is a federal holiday and USPS is closed shipping may take longer than normal.
We ship to the United States only unless otherwise stated.
All items ship USPS or ups depending on weight and size unless otherwise stated in listing.
Please be sure to verify your shipping address is correct during checkout.
Returns are accepted and must be returned within 14 days of item being received, unless otherwise stated in the listing description.
Item must be in brand new condition and in its original packaging.
A 30% re stocking fee will be applied.

There is no re stocking fee if you are returning an item you received because it was grossly misdescribed or you receive an item that was not what you ordered.

If you purchase an item and it is the wrong size or you need something different items can be exchanged, buyer pays all shipping cost and difference in item cost if there is any "No re stocking fee will be applied in this situation".
We must be notified about any return or exchange within 7 days of item being received by buyer. If any questions about returns please feel free to email us via the eBay message system or call us at 1-888-396-8676.
Positive feedback is always left for our customers.
We strive to have have great products, great prices, great service, and fast shipping! Having great feedback is very important to us. If for any reason you are not happy please contact us via the eBay message system or call us at 1-888-396-8676.
**Compressor-source: Contact Info**
Email us via the eBay message system and we will reply within 24 hours Monday- Friday or we can be reached by phone at 1-888-396-8676.
Our business hours are Monday-Friday 8:30-5:00 and Saturday 9:00-12:00 central time.
We do occasionally check our questions over the weekend so feel free to email us on weekends and we will reply ASAP.
Powered by eBay Blackthorne 04.06.026
Posted with eBay Mobile