PCE PC3003A
Small Block Chevy ProComp Aluminum Cylinder Heads
210cc Intake Port, 64cc Chamber, 2.02/1.6 Valve, Angle Plug
You are bidding on a new pair of ProComp Motorsports small block Chevy aluminum cylinder heads. These heads are bare and ready to assemble. Comes with features normally found in heads costing much more, including:
Hardened exhaust seats for unleaded fuel compatibility
Bronze valve guides
Manufactured with aircraft quality high grade aluminum alloy
Multi-angle seat design for improved flow at low lifts
Advanced port design for improved flow at all lifts
Advanced combustion chamber design allows superb flame travel and burn
Additional pushrod clearance machined along outside port walls
Can use either early or late (Vortec) intakes
Can use either perimeter bolt pattern or centerbolt valve covers
Threaded accessory holes in ends of heads
Retains stock 23 degree angle and intake/exhaust bolt locations
Thick deck to resist warping and allow for additional milling if desired
Does not require offset rocker arms
These heads will work for all small blocks including 400s (no steam holes). Heads are drilled for both the earlier style intake bolt pattern (pre '87) that had all bolts going in at an angle and the newer Vortec style that has 4 on each side going straight down in.
---
PC3003 Specs

| | |
| --- | --- |
| Intake Port Volume | 210cc |
| Combustion Chamber | 64cc |
| Intake Valve Size | 2.02" |
| Exhaust Valve Size | 1.60" |
| Valve Stem Dia. | 11/32" |
| Intake Port Size | 1.22" W x 2.20" T* |
| Exhaust Port Size | 1.5" W x 1.4" T |
| Max Spring Dia. | 1.625" |
| Exhaust Crossover | No |
| Plug | Angle |
| Weight (per head) | 19 lbs. |
* Please note intake port height. These are a raised runner design. Stock and some aftermarket intakes may not cover port, you will need to compare this to the intake you plan to run.
We recommend either a Fel-Pro 1206 intake gasket when using early style intake types or our KMJ 1255 when using Vortec style intakes. Both may require slight trimming but are very close.

The Fel-Pro 1405 is probably the best exhaust gasket choice although the 1404 would work also with minor trimming.
See our ebay store for gaskets. Any of the above qualifies for free shipping when also ordered with these heads. Please request a combined invoice to receive discount.
If you have any questions feel free to call us at (515)733-2890

PC3003S Flow Numbers

Flow numbers are from ProComp. Measured on SuperFlow SF600 @ 28"Hg with 1/2" radius intake plate and short stack exhaust tube

| | | | |
| --- | --- | --- | --- |
| Intake Lift | CFM | Exhaust Lift | CFM |
| .100" | 63.0 | .100" | 52.2 |
| .200" | 117.1 | .200" | 97.8 |
| .300" | 163.1 | .300" | 132.9 |
| .400" | 203.6 | .400" | 161.9 |
| .500" | 230.3 | .500" | 180.0 |
| .600" | 248.2 | .600" | 189.2 |
| .700" | 252.0 | .700" | 192.1 |
---
These heads are a great choice and at a great price. Perfect for high performance/race applications where a quality head at an affordable price is desired.
210cc intake port works well out of the box on engines with around 500-600 projected HP. Further gains can be had with gasket matching and porting techniques. Works especially well for larger displacement and stroker engines such as 383 and 400 engines.
Aluminum material allows the benefit of higher compression ratios on the street compared to iron heads, not to mention that it saves nearly 20 lbs per head verses the factory ones!
You can also use standard off the shelf items such as pistons, rocker arms, guideplates, studs (accepts either 3/8" or 7/16"), and stud girdles.
---
We also carry these as a fully assembled pair ready to bolt on. Check out our ebay store for more cool products including other cylinder head selections.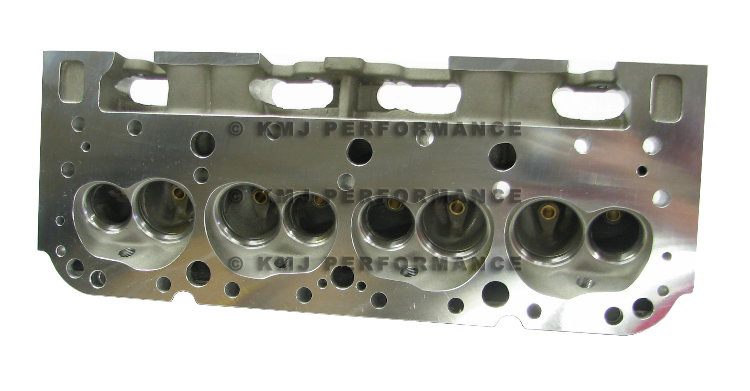 See Our Ebay Store For More Related Items:

| | | | | | | |
| --- | --- | --- | --- | --- | --- | --- |
| Head Studs | Stud Girdles | Gaskets | Valve Springs | Rocker Arms | More Valvetrain | Assembled Heads |
KMJ PERFORMANCE
- TECH AND EBAY PAYMENT LINE -
515-733-2890
MONDAY-FRIDAY: 7:00AM-6:00PM SATURDAYS: 8:00AM-4:30PM (CST)
Click on store image to view our current listings of High Performance Products!
Payment:
Please make payment within 7 days of purchase. Paypal and Visa/MC/Discover credit card payments are accepted.

CREDIT CARD PAYMENTS -

We use our own merchant account to process credit card payments. Using a third party source to route payment from your card to us, such as through Paypal, many times will not work. You can call us at (515)733-2890 and we can take your payment and answer any questions you may have. Just let the salesperson know it is payment for an ebay item and we will insure that it gets processed as quickly as possible.

PAYPAL PAYMENTS -

The majority of Paypal payments can be processed within 2-3 hours after received during our normal weekday business times. To prevent any delays with your order you should watch for the following common issues:
Be sure your shipping address has a physical address that Fedex/UPS can deliver to. Addresses that only have a PO Box can cause long delays and almost always result with having to credit/cancel the order in the end. You should be able to add one onto your payment when going through the payment process.
Be sure the shipping address is correct when making payment. Shipments will go to the address that comes through on the payment. Within a short time it may be already shipped and on the way.
Some of our listings may request a "note to seller" to let us know if you have a certain preference or need a specific thing such things as sizes, colors, etc. Putting a note on your Paypal payment is the best way to insure it should not be missed.
In order to comply with Paypal's buyer/seller protection policy, any (single) payment having a total of $250 or more must be sent with signature confirmation on delivery. This applies to all packages that may be associated with the payment. If the order requires multiple packages someone will need to sign for each one.
If you find there there is any problem with your payment or order we recommend calling us during normal business hours if at all possible. If you miss us during regular hours you can leave a voicemail message on our phone system. While we do our best to keep up with ebay messages, during times of heavy volume an order can get processed and shipped before we're able to get through them all to stop or change an order.
Shipping:
Unless a listing is set up that allows calculated shipping for other locations, the shipping amount given for an item will be ground shipping to the lower 48 states only. We do not offer any next day, air freight, or other expedited services on ebay orders.
We try and combine Ebay auctions when possible. Normally it will be the highest shipping amount plus half the shipping amount on other items, sometimes better on orders of small items. Some items are not combined due to size or weight such as crankshafts, torque converters, radiators, cylinder heads, etc. On multiple item purchases the shipping amount is not figured automatically during checkout so please request a new invoice or wait for us to send a combined invoice so we can adjust the total.
We may have auctions that state free shipping when purchased with certain items. If purchasing items with free shipping, please request a new invoice before paying. The shipping amount is not figured automatically during checkout. We are unable to refund your Paypal once payment has been sent. If you have any doubt what your shipping will be please feel free to call us at 515-733-2890 during business hours.
| | | |
| --- | --- | --- |
| Wholesale & Bulk Lots | | Dollar Auctions! |
Good luck and happy bidding. Make sure you check out our ebay store and special $1 auctions
that feature both new and used items. Keep an eye out - you never know what kind of deals you'll find!
*** If you have any questions send us an email or just give us a call! ***
Powered by eBay Blackthorne 04.12.044