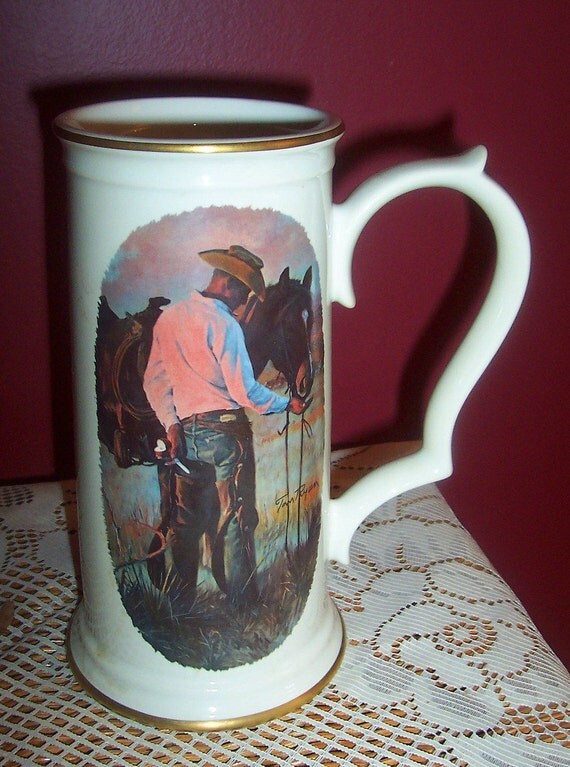 Retired '79 GORHAM Cowboy & His Horse Fine China Stein by Artist Tom Ryan
Retired '79 GORHAM Cowboy & His Horse Fine China Stein by Artist Tom Ryan
RARE! Excellent Condition!
1st Edition 1979
GORHAM "Sharing An Apple" Cowboy and Horse Stein
By Western Artist Tom Ryan

GORHAM COWBOY & HORSE COLLECTIBLE FINE CHINA STEIN

"SHARING AN APPLE"
By Western Cowboy Artist Tom Ryan

Collectible vintage treasure by Gorham fine china USA.

Has been stored safely in a china cabinet for over 25 yrs.

"Introducing America's finest living Western artist Tom Ryan. Capturing the contemporary Western scene with warmth and understanding."

Brown & Bigelow. 1979 First Edition

From the painting "Sharing An Apple" 1969. Winner of 1969 Annual Cowboy Artists of America Exhibit.

Limited Edition. 2500

Identical image on both sides of stein.

Rimmed with gold. Gold writing on base of stein.

Measures approx 8" tall. 4 1/4 inches in diameter at base.

No chips, cracks or discolorations. Excellent condition.

Original painting is on display at the National Cowboy Hall of Fame in Oklahoma City, Oklahoma

"I had heard from other cowboys that Sheep Morrow treated horses better than anybody else on the ranch. I tried to come up with something that would portray his kindness and the way he treated animals.

"He didn't think the horse would eat the apple, but he posed anyway. Sheep was pretty surprised when the horse took the apple. He liked the painting though, and I still hear from him"
$39.00
Find out more
Click here to Learn more...