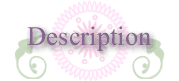 YOU Can Repair Your Doll's Broken Rubber Bands

EASY to follow STEPS to REPLACE broken RUBBER BANDS in Your Vogue Doll

The rubber bands that the manufacturer uses to attach the head, arms & legs of your dolls, suffer from age and then stretch or break.
Using our step-by-step instruction, you can learn how do replace and repair these broken rubber bands and save

$20 to $35 per doll.
I HAVE WRITTEN A DETAILED, STEP-BY-STEP, INSTRUCTION ON HOW YOU CAN MAKE THESE REPAIRS.
ALSO, WE INCLUDE, WITH THIS INSTRUCTION AT NO ADDITIONAL CHARGE, A SUPPLY OF HIGH QUALITY ELASTIC THAT REPLACES THE RUBBER BANDS IN ABOUT 8 to 10 DOLLS. Should you need more, we tell you where it is available at many stores near you.
YOU CAN LEARN TO DO THIS REPAIR YOURSELF.
MY STEP-BY-STEP GUIDE WILL HELP YOU BECOME A HAPPIER COLLECTOR.
NO CHARGE FOR MAILING to U.S.A. buyers.
NOTE:
For non-U.S.A. buyers, add $2.00 USD for mailing.

RESULTS????
See our eBay FEEDBACK from the past six years from doll collectors that have been able to return their prize collectibles from parts to whole dolls again.
YOUR

SATISFACTION IS GUARANTEED. If our instruction does not help you successfully repair your dolls, merely let us know and you will be given a full refund.
* * * *
Provided to you from a smoke-free, pet-free business and home.
* * * *
Need an idea for a GIFT???
See our premium scented candles ...
v

isit our eBay STORE ... click this link>>
http://stores.ebay.com/Luigi-at-Olathe
LUIGI AT OLATHE