Puerto Vallarta Marina Lighthouse Panoramic Print
12" x 30"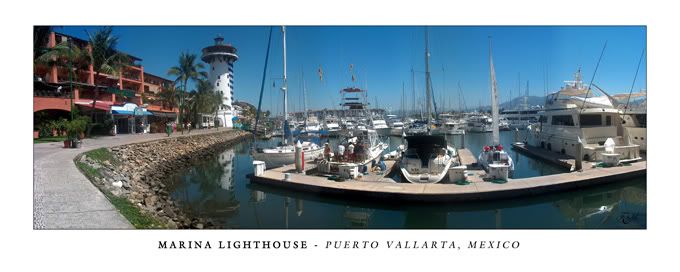 PRINT DETAILS
Each print is brand new, printed at a professional photo lab, and has an archival quality of 60-80 years (under normal lighting conditions)

TOTAL SIZE OF PRINT:
12 in. by 30 in.

SIZE OF PHOTO:
9 in. by 27 in. (approx.) - each print arrives as shown above in picture (due to differences in computer monitors, image may be slightly darker/lighter than the actual print received, although the difference will be very small if any)

PHOTO TYPE:
Panorama

FRAMING:
Unframed

YEAR PHOTO TAKEN:
2005

PAYMENT & SHIPPING

Each print ships out rolled up in a protective tube.

SHIPPING CHARGES (includes postage & packaging of the photo):

USA: $3.00 + $1.00 for each additional item
Canada: $8.00 + $1.00 for each additional item
Worldwide: $10.00 + $1.00 for each additional item

Processing/Handling/Shipping time will usually take between 3-7 business days.

ACCEPTED PAYMENT METHODS: PayPal

SHIPPING DISCOUNT:


For each additional item purchased, shipping is $1.00 extra

SAVE $$$ ON FRAMING!!
Most of my prints come in standard frame sizes: 8x10, 10x20, 12x30, 12x36. You can purchase these frames at places like Kohl's, Linens 'N Things, and other similar department stores for reduced prices.
RETURN POLICY
Frederick Millett Photography is committed to high quality products and guarantees your satisfaction. If for any reason you are not completely satisfied with your purchase, you may return it within 30 days for a replacement or a full refund.

To return your item(s), please pack them in the original tube or box and include the completed Return Form which you will find included with your order. Returning your item(s) via a trackable method is recommended.

Damaged Print Replacement: If your order should arrive in less than satisfactory condition, and you are seeking a replacement print, simply take a digital photo of the item and one of the shipping container it arrived in and attach them to an email. Please include in the Subject line the item number and the word "Return" and in the body of the email: the print name, date purchased, your name, and a brief description of the reason for the return. You do not need to return ship any item(s) that have been damaged that you are seeking a replacement; however, you will need to return ship any items that you are seeking a full refund, whether damaged or not.

*For updates, weekly deals and more, check out my Facebook page and like my photography.*