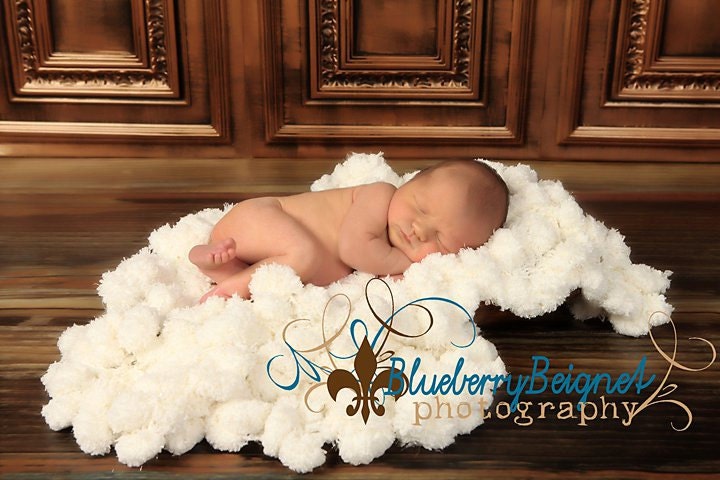 Photo Props Popcorn Baby Blanket Texture 'Marshmallow' Props for Newborn Infant Props Children
Photo Props Popcorn Baby Blanket Texture 'Marshmallow' Props for Newborn Infant Props Children
I hand knit this fluffy, puff ball textured rug mat prop mini baby blanket for professional photo portraits (newborn to 1 year old) in neutral ivory - vanilla - cream - off white. It's like giant, open and airy popcorn clouds!

I offer hundreds of always original baby and maternity props, please see the choices! :) http://www.etsy.com/shop/BabyBirdz

This blanket is AVAILABLE IN 3 SIZES: This 2x2 (24 inches x 24 inches) is the smallest 'Marshmallow', it also comes in a medium 3x3 size at http://www.etsy.com/listing/73371456/puff-ball-3x3-blanket-ivory-cream-off and a large 4x4 size at http://www.etsy.com/listing/74821054/puff-pom-4x4-blanket-large-off-white

My standard shipping is to U.S. customers via 2-3 day USPS Priority Mail & to international customers via first class. MOST ORDERS SENT SAME OR NEXT BUSINESS DAY.

Thank you so much to Roxanne of Blueberry Beignet Photography in Belle Chasse, Louisiana at http://www.blueberrybeignetphotography.com for sharing her expert photography (add'l images credited in separate listings).

Roxanne writes, "WOW ! Thanks Celeste !!! You are GREAT to work with !!!"

I also made the MATCHING HAT (shown in the fourth pic), available at http://www.etsy.com/listing/77944936/baby-hat-prop-newborn-infant-fluff-cap

Or SAVE when you order BOTH hat and blanket as a set at http://www.etsy.com/listing/77945312/hat-plus-blanket-set-discount-on

*Important Note: My PuffPelts™ work only as a photography prop for short periods under direct supervision; they're not a functioning baby blanket or toy and are for professional use only. Other props not included.

My designs are exceptional quality and a great value; this lasting, quality piece is strong and durable for years of professional use.

Only designer, vintage or novelty yarns (vegan). No allergenic animal fibers to irritate sensitive skin.

Designed & created in the clean, fresh, high desert air in the heart of Grand Canyon country, USA (no perfume, cigarette or pet odors)

Shake vigorously to fluff before each use. When necessary, wash in cool water with mild soap. Lay flat or hang to air dry (stain resistant so washings should be infrequent).
$65.00
Find out more
Click here to Learn more...