GOOD POSTURE IS BOTH HEALTHY AND ATTRACTIVE
The way you carry yourself is part of your self-image. Good posture with a straight back and broad open shoulders shows a good sense of self-esteem. In today's society, good posture is becoming less and less common due to the sedentary nature of our daily lives. When working in a seated position, bent over a desk, the body slumps and our core stability muscles start to weaken.
Weak muscles tire easily and when they are no longer able to hold the body straight, the back starts to bend. When this happens, the front edges of the spinal discs are compressed and the back edges stretch out. In time, the strained discs wear out and the vertebrae start pressing on nerve endings. This impedes their ability to conduct impulses from the spinal cord to the tissues and organs of the body, and degeneration occurs.


CHILDREN AND GOOD POSTURE
The Using posture correctors and belts is an effective way to rehabilitate the backbone. While adults don't need to be persuaded to use one, children (who are influenced by their peers) may need to be. Explain to your child why good posture is so important. Your child may want to play rugby, or do weight-lifting or martial arts, but these and some other sports can overstrain the back. Discuss with your child whether it is worth pursuing such sports, or whether they might not be better choosing something different such as swimming, volleyball or tennis.

ORTHOPAEDIC POSTURE CORRECTOR/BRACE WITH REMOVABLE FIRM PLATES
FOR THE LOWER REGION
OF THE SPINE
(FOR BOTH MEN AND WOMEN)
SIZE XL (100-106 cm CHEST)
This size does not correspond to a XL shirt size (see sizing guide below)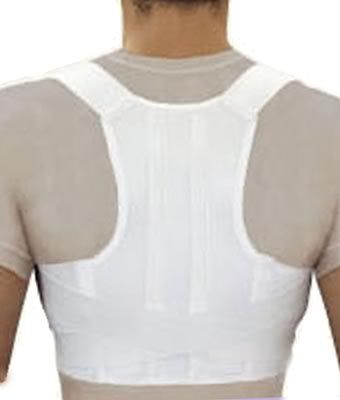 HOW DOES IT WORK?
ORTHOPAEDIC ELASTIC POSTURE CORRECTOR for the lower spine is designed to keep the shoulders in the correct position, to take the load off the middle and lower area of the spine while retaining normal muscle tone. The broad back panel has firm metal plates along both sides of the spine stretching from the neck up to the lower thoracic and lumbar areas of the spine.
Two removable firm (metal) plates along the spine stretching from the neck to lower back area. Provide additional support and help prevent slouching.

Criss-Cross Elastic Shoulder Straps are soft and comfortable to prevent pinching of the skin. Criss-cross strap design in the back for increased adjustability.

Soft pads (included in pack) can be fixed on the straps for the most suitable position.

Velcro fastening allows adjustment of the tension of the straps, which must be increased every day until normal physiological posture is achieved.

It is very important that wearing such a corrector does not exclude your own muscles' activity or prevent normal heart beating. The Posture Corrector alleviates tension and overstrain, relieves pain, relaxes muscles and allows you to feel vigour and joy. You'll be more alert, breathe more easily and feel better all over.
WHY DO YOU NEED IT?
- If you spend long hours in an uncomfortable position of your spine (e.g. office or shop worker, programmer, translator, etc)
- If you have rounded shoulders and slouching
- For children to help form correct posture.
- Correctors are recommended for middle-aged people and senior citizens to provide support for the spine and to retain correct posture.
- Posture Correctors are indispensable for sportsmen who put a lot of strain on their back (weight-lifting, rugby, martial arts, etc)
- Posture Correctors are commonly recommended for conditions such as osteochondrosis, osteoporosis, pectus excavatum (view customer recommendation), scoliosis, kyphosis, lumbago, radiculitis, and herniated or ruptured discs.
HOW TO WEAR IT?
-Can be worn on fine cotton linen or applied directly to skin.
-It brings no discomfort
-Undistinguishable beneath your outfit.
WHEN CAN I SEE RESULTS?
Your posture will begin to change within a couple of days, but for lasting results you should maintain the recommended wearing regime for a few weeks or months. Keep your Posture Corrector handy for reinforcement if you start to slouch again.


Colour:
White

CLICK HERE TO PURCHASE A DIFFERENT SIZE FROM OUR eBAY SHOP.

Sizing Guide

The elasticity of the fabric allows the correct size of product to be chosen without needing to try it on. To get the correct size, match your chest measurement in the area shown in the diagram to the chart below:

Size

a, cm (inches)

1

S

68-78 cm
(27"-31")

2

M

79-88 cm
(31"-35")

3

L

89-99 cm
(35"-39")

4

XL

Composition of the fabric in %: polyester - 60, latex - 40

Contraindications: individual allergies to the materials of the fabric, local skin diseases.
DELIVERY: Your item will normally be dispatched within one working day after payment has cleared. UK items are sent by 1st class post. We always obtain proof of posting.
PAYMENT METHODS: We accept PayPal payments. Please contact us about alternative methods of payment.

IMPORTANT SAFETY NOTICE: We use the manufacturer's recommendations and our own experience in order to provide as accurate a description of the item as possible. The article on this webpage is provided for information only and should not be used as a basis for diagnosis or treatment. We strongly recommend that you seek professional advice prior to using any medical supports. We do not accept any liability whatsoever for any direct or indirect loss or damage due to incorrect use and/or fitting of this product.
SPECIAL OFFER: Buy any 2 or more items from us at the same time and only pay for delivery of one!*
CLICK HERE TO PURCHASE A DIFFERENT SIZE FROM OUR eBAY SHOP.

* Offer applies to UK customers only. Delivery charge of heaviest item will apply.


We are a family run business, with a medical and scientific background
READ MORE


Why Buy From U

s
We offer one of the most complete and innovative award-winning product lines available.

All our products are certified for professional as well as home use.

All our products are produced in Europe, and comply with all EU regulations.

We are an ethical business - we do not sell products that we wouldn't use ourselves!