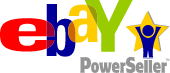 Be sure to add me to your favorites list! Sign up for my email newsletters by adding my eBay Store to your Favorites
Check out my other items!
Own this unique, hard to find, beautiful authentic Pope John Paul II Vatican Coin before our limited supply runs out!
This listing is for one uncirculated:
POPE JOHN PAUL II / ANGEL
VATICAN 1997
200 LIRE COIN UNC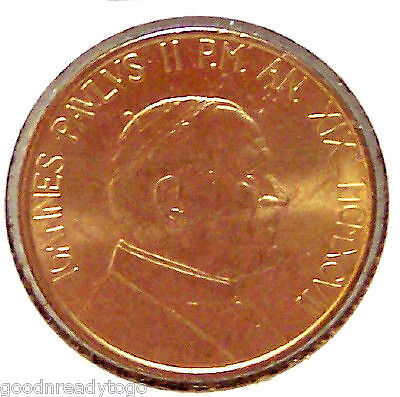 PHOTOS ENLARGED TO SHOW DETAILS.
COIN IS BRIGHTER AND LIGHTER IN COLOR IN PERSON.
COIN MAY HAVE SUPERFICIAL NICKS AND SCRATCHES AND COIN MAY HAVE SPOTTING, TONING, AND/OR OXIDATION RELATED TO AGE.

COIN YOU RECEIVE MAY VARY FROM THE ONE SHOWN IN PHOTO BUT WILL BE IN SAME GENERAL CONDITION.

PARDON GLARE IN PHOTOS.

Under Pope John Paul II, the Vatican created new, innovative and impressive coin designs every year. 1997 was no exception. The 1997 year of mintage commemorates the 19th Anniversary of the papacy of Pope John Paul II.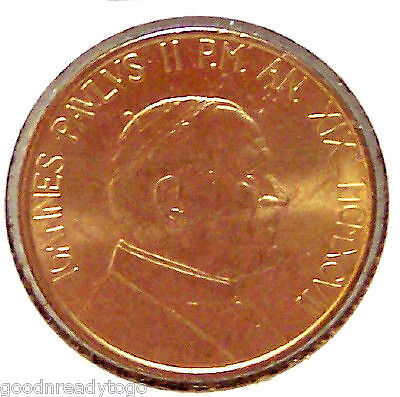 One side of this beautiful coin shows Pope John Paul II in profile facing right and is inscribed: "JOANNES PAVLVS II P.M. AN. XIX MCMXCVII." "AN. XIX" refers to the 19th year of the Papacy of Pope John Paul II and the rest of the Roman numerals indicate the year of mintage, 1997.

The other side of the coin shows an angel guiding two people. This side is inscribed: "CITTA DEL VATICANO L.200." Slightly above on the right side of "L200," is the mint mark "R," signifying that this coin was minted in Rome.
This coin was legal tender prior to the institution of the Euro. It has a diameter of about one inch and is slightly larger than a USA Quarter.
Honor the memory of this great Pope, known as the Apostle of Peace, by proudly owning this hard to find coin minted in 1997.
"At a time marked by profound and rapid change, Catholics are called to offer their country new intellectual and moral energy to build a future inspired by the civilization of love. May honesty in every area of social life, willingness to mutually forgive one another and to seek reconciliation, acceptance of the weak and support for the poor, respect for the person and his dignity, attention to the authentic needs of the family, the primary cell of every society, be inescapable reference points on the journey towards the new Christian millennium. "
FROM THE ADDRESS OF POPE JOHN PAUL II
TO A GROUP OF PILGRIMS FROM Zadar, Croatia
Friday, 31 January 1997
TO AVOID DISAPPOINTMENT,
BUY IT NOW at our eBay Store

WHERE WE HAVE AN EXTENSIVE SELECTION OF OTHER POPE JOHN PAUL II AND POPE BENEDICT XVI COINS.
OUR SUPPLY IS EXTREMELY LIMITED AND ONCE THE CURRENT SUPPLY IS EXHAUSTED, NO OTHER POPE JOHN PAUL II /ANGEL COINS WILL BE AVAILABLE.
100% GUARANTEE OF AUTHENTICITY
Please be sure to ask questions before bidding so you are completely satisfied with your purchase.
For other great buys look around our eBay Store
We have an extensive inventory of coins and original collectible items in many areas of interest. Some of the items in our store inventory are quite unique and the only place they are available on eBay is at our store. Also, some of our auction items are available at the store on a Buy It Now basis. Feel free to drop by our store even if only to browse and window shop.
PAYMENT and SHIPPING INFO
We ship quickly, usually within 24 hours of receiving payment. PAYMENT IS REQUIRED WITHIN 7 CALENDAR DAYS except for Buy It Now items which require immediate payment. The shipping and handling charge helps cover the cost of shipping, packing materials, and handling. If you do not want to pay the stated shipping charge, please do not bid on or purchase this item. Please do not bid or purchase if you will not be able to honor this contract.
Shipping for this item is to USA only.
Florida buyers pay 6.5% sales tax.
We combine shipping. The discount for combined shipping depends on what items you are buying. We will be glad to give you a combined shipping quote for any combination in which you are interested. Ask for the combined shipping quote prior to bidding.
We give feedback on all completed transactions once we know you are satisfied with the transaction and have left feedback for us.
Thanks and Happy Bidding!!!