Brand New in Factory Sealed Box-- 17in (Length). 19in (Height). Base Approximately 6 1/2in Round Circle


New Bronze Finish Jewelry Tree Stand
Branches and Loops Elegantly Display Earrings, Bracelets, and Necklaces

This is for one Brand New Bronze Jewelry Tree Stand Display Necklace Bracelet Earrings Holder. This beautifully designed jewelry tree is the perfect accent to any home. Branches and loops elegantly display earrings, bracelets and necklaces. With its powder-coated steel branches and rustic finish, the Jewelry Tree is guaranteed to last for a very long time! Cast-iron base with an antique bronze-colored finish will keep your tree looking good and well-balanced! Perfect gift for any occasion. Measures 17in (Length). 19in (Height). Base Approximately 6 1/2in Round Circle.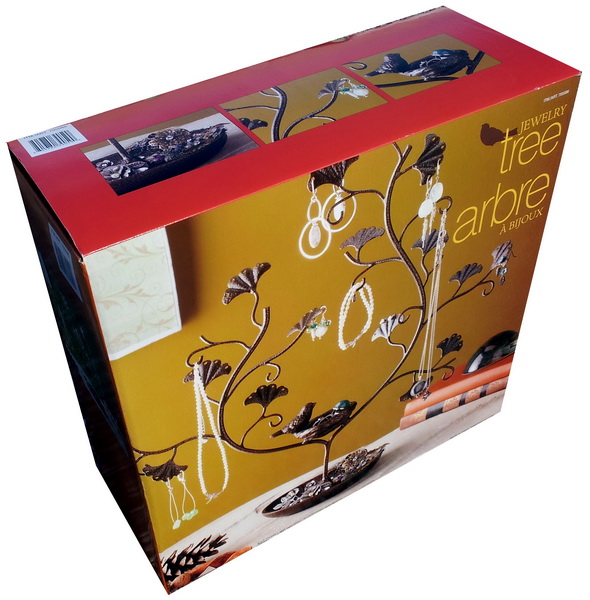 Photo above shows display model. Winning buyers receive the same item but new in a never opened box as shown above.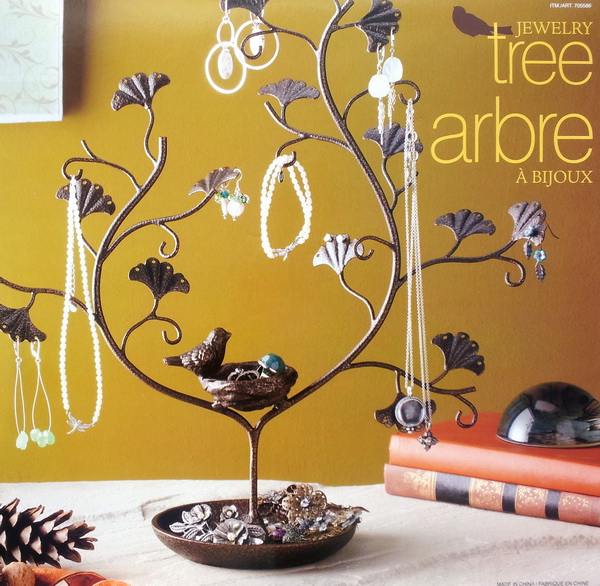 Features:
Cast Iron base with an antique bronze-colored finish

Powder Coated steel branches with a rustic finish

17in (Length). 19in (Height). Base Approximately 6 1/2in Round Circle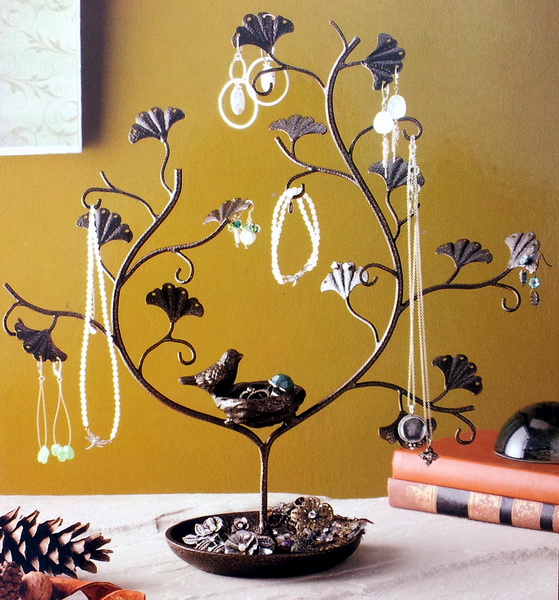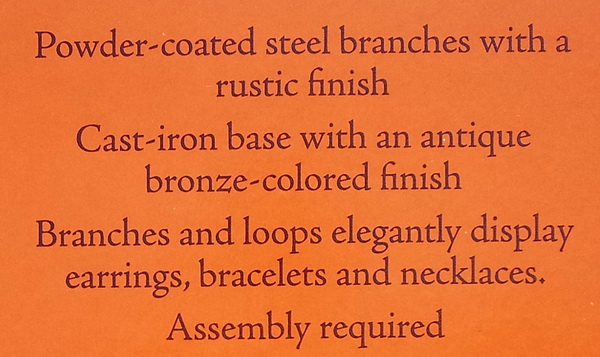 FREE SHIPPING
to Any Lower 48 USA Street Address !
Only ships to an American or Canadian Street Address, no international to outside USA or Canada.
Free shipping to USA, Actual shipping cost to Canada.
For Shipping To Canada: To determine shipping cost to your area please enter your postal code into the shipping calculator at the top or bottom of this page. Delivery by mail is not available. This only ships by UPS for the cost stated on this item page + any applicable duty or fees. For delivery to any Canadian address - total amount due is the winning bid amount + shipping cost as stated by the shipping calculator on this page. For delivery to Canada only, UPS may charge an additional brokerage fee at time of delivery.
TRACKING NUMBER is sent by email for EVERY PACKAGE shipped AND posted directly to ebay for you.
To see your CLICK-ABLE TRACKING NUMBER - when logged in at ebay, click the VIEW ORDER DETAILS link at the top section of this item page
Shipping and Delivery Schedule:


Most items Ship by UPS Ground within 0-2 business days after your payment has been received and processed at our location with delivery 1 to 5 business days after that. Payments received on weekends or holidays are processed the next business day. Payments received after 2pm EST Sunday through Thursday are also processed the next business day.


Ships by UPS Ground.


Shipping Cost:
- Free Shipping by UPS Ground. Postal delivery to any address, PO Box or APO is not available. Your total cost is the buy it now or winning bid amount only !

Canadians only: can expect to pay an additional brokerage fee at time of delivery. This Canadian brokerage fee goes to the agent of UPS and does not benefit us, the seller, in any way. We are not able to call your delivery to Canada a gift to avoid brokerage or customs fees.



Packaging:
Some items do ship safely and securely in the manufacturer's own box, which may clearly indicate the contents.

Item Availability:
All items are in stock at the time of listing.

International Shipping: Is not available for this item. No postal or UPS delivery to outside of USA is available.

Customer Service:
Call 502-326-3050 at anytime or send ebay message anytime with any questions about delivery time or price before or after ordering or if for any reason you are dis-satisfied after receiving your delivery.