Lockheed L-1049 Super Constellation Desktop Globe Model

This Lockheed Constellation desktop globe is brand new and the manufacturer is Authentic Models (please see below).

The Lockheed 1049 Super Constellation airplane model is hand cast of recycled aircraft aluminum. The globe is a 1920s Weber Costello globe and is made of copperplate printed paper gores hand applied to a papier-mâché core.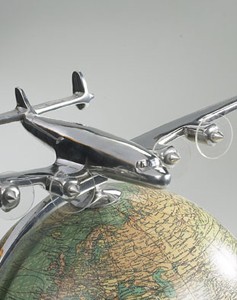 This desktop globe is a replica of a 1950s vintage travel agent advertising globe.
This Lockheed Martin L-1049 Super Constellation model & stand have been hand polished to a brilliant art deco shine. It is sure to become a conversational addition to your aviation decor and is the perfect size for your executive desk.

Size: 8.75" wide x 10.5" height x 12.25" deep

Material: Recycled cast aircraft aluminum

Manufacturer: Authentic Models

The Lockheed Constellation ("Connie") was a propeller-driven airliner powered by four 18-cylinder radial Wright R-3350 engines. It was built by Lockheed between 1943 and 1958 at its Burbank, California, USA, facility. A total of 856 aircraft were produced in four models, all distinguished by a triple-tail design and dolphin-shaped fuselage. The Constellation was used as a civilian airliner and as a U.S. military air transport plane, seeing service in the Berlin Airlift. It was the presidential aircraft for U.S. President Dwight D. Eisenhower. The article "Lockheed Constellation" is part of the Wikipedia encyclopedia. http://en.wikipedia.org/wiki/Lockheed_Constellation
Authentic Models Inc was created more than 40 years ago in Amsterdam, the Netherlands. Authentic Model's expertise and interests go back many centuries. AM's collection of nautical ship models, furniture, artifacts and accessories is inspired by the age of exploration, maritime history, cartography and more…Learn more about Authentic Models Inc
More Aircraft Airplane Decor & Plane Models by Authentic Models Are Available.
---
Please buy with confidence-100% money-back guarantee

Please browse CaptJimsCar-go for more Aviation Home Decor, Nautical Etched Furniture, Museum Quality Ship Models, Old World Style Globe Bars and Low Priced Nautical Gifts!

To browse more items - Click on the Logo below
(close the new window to return to this item)!