Lego City Custom Tow Truck instructions PDF & part list
$3.50 Buy It Now <1m
Go See More Details ▸

Quantity

42 sold / More than 10 available

Shipping

FREE Shipping

Handling

Ships within 30 business days

Ships to

US, Europe, CA, AU

Returns

Covered by the Money Back Guarantee

Guarantee

Seller

99.7% positive feedback brickcitydepot (2,929)
Up for a low fixed price of $3.50 is a set of custom instructions for a Lego Rollback Tow Truck. The Tow Truck features a ton of cool details including the driver cab, the Bed which moves forward and backward and tilts down, the winch with hook that brings the car up on to the bed, and the overall accuracy of the model. Upon completion of payment the instructions will be emailed to you along with a parts list.


INTERNATIONAL BIDDERS WHO CAN READ ENGLISH YOU CAN PURCHASE THE INSTRUCTIONS. I DISABLED THE INTERNATIONAL BIDDER OPTION AS TOO MANY NON PAYING, NON READING, NO FEEDBACK USERS WERE WASTING MY TIME.

This is

NOT

for the tow truck itself.
This is

NOT

for any pieces.
This is

NOT

for anything to be sent to your usps mailbox.
Under

NO

circumstance should you ask about shipping costs. It is free because I am

NOT

shipping anything. I am emailing something to you.
Once you pay for the item I will send an email asking you if you have read the auction and know what you are getting.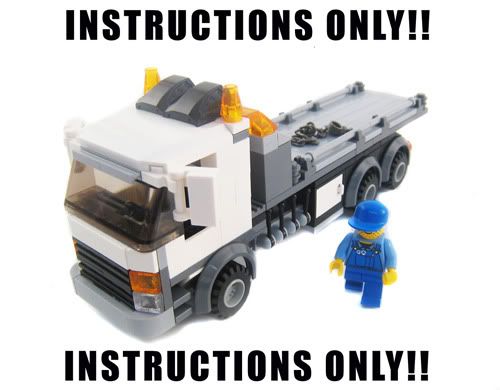 © 2008-2015 PicClick LLC.