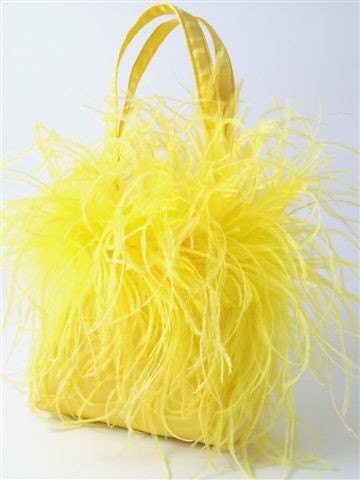 yellow feathers handbag, bag, purse, cocktail bag
yellow feathers handbag, bag, purse, cocktail bag
This charming handbag , purse is made from REAL OSTRICH FEATHERS IN YELLOW and YELLOW SILK SATIN FABRIC

(AVAILABLE IN BLACK TOO FOR SPECIAL ORDERS)

-The bag is fully lined with satin, and comes with a magnetic snap closer

- The size of the bag is 6.5 inches long by 7 inches high by 2.5 inches wide and the handles are 13 inches long

-The bag is finely handcrafted from the highest quality materials and the feathers are sewn by hand to the fabric (not glued) so you will never lose them.

This cheerful handbag looks like it has a life and personality of its own and can be worn with jeans or to a black tie event, or as the mood suits you. Additionally, this bag is an absolute show-stopper and one-of-a-kind conversation piece, that also makes the perfect gift for yourself or for a loved one.
$75.00
Find out more
Click here to Learn more...