L
UXURY
LATEX
RUBBER

PANTS

DIAPER NAPPY COVER
TRANSPARENT LATEX english quality AB DL DW SISSY
LUXUS

LATEX

englische Qualität GUMMIHOSE

TRANSPARENT RUBBER PANTS
beste Latex Qualität, sehr gute Verarbeitung, alles geklebt!

Latex circa 0,25 mm, Grösse: L, Umfang Taille Bund (gedehnt) circa 105 cm,

Bein-Ausschnitt (Oberschenkel) circa 53 cm (leicht gedehnt),

Länge von Taille Bund bis Schritt Mitte circa 47 cm ! ... sehr geschmeidig

... Neu-Preis in Latex-Design-Boutique rund US $ 80,oo !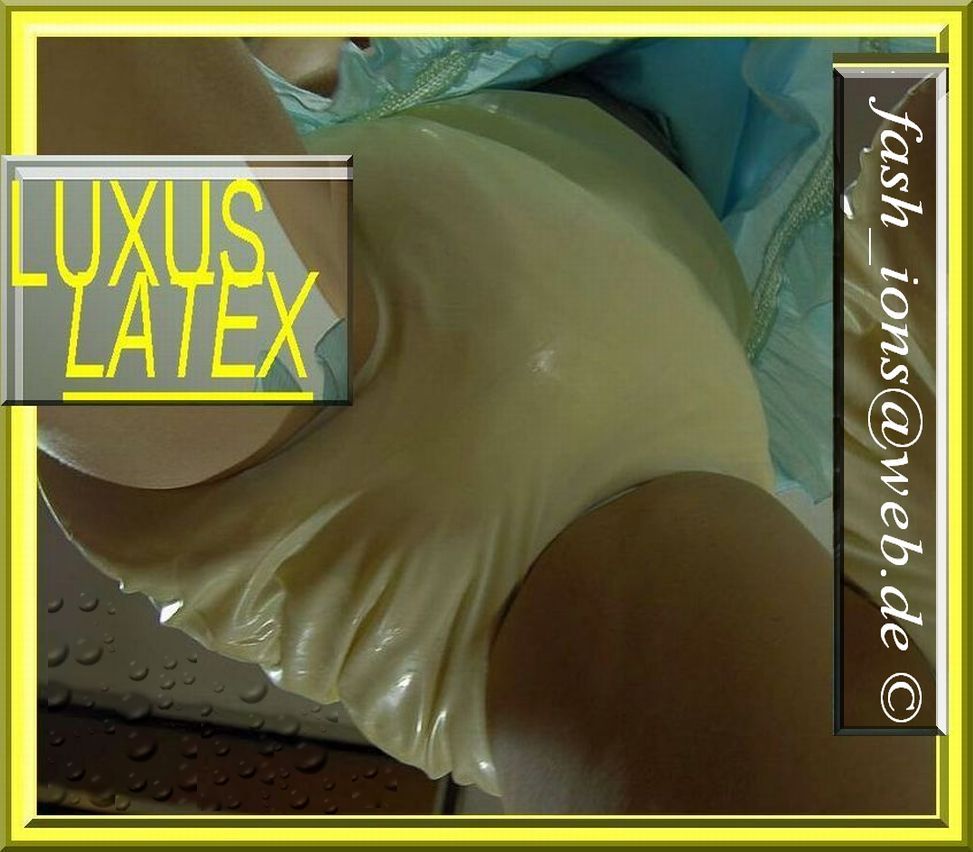 Latex best quality, good workmanship ...
all glued ! Latex approximately 0.25 mm
Size: L, waist circumference (slightly stretched) to about 105 cm,
leg-cut (thigh) up to about 53 cm (slightly stretched),
length from waist to mid-step about 47 cm! ... very smooth ...
Anwendungen: z.B. als außergewöhnliche Dessous Zweite Haut Unterwäsche, seltene Luxus Latex Lingerie, Latex Gummi Unterwäsche ... oder für ADULT BABY, DL, SISSY, DWT, Crossdressing ... oder für PATIENT, KLINIK, HEIM, HYGIENE, PFLEGE ... manche verwenden diese Latex Luxus Gummihose besonders gerne als Kult Windelhose oder auch in Kombination bzw. direkt als Saunahose, Sauna Pants, Schwitzhose, slim pants, Schlankheitshose ... oder als Unterstützung für warm up, work out ... für fit, fun, sports ... oder als aufregende Schwimmhose, reizende Badehose ... für Spezielles in Beauty und Wellness, Entspannung, Fettverbrennung, Entschlackung. Pflege-Tipps : HANDWÄSCHE ! Kein Weichspüler ! Kein Trockner ! Trocknen auf Leine oder Ständer; sorgfältig An- und Ausziehen; trocken lagern, pflegen mit handelsüblicher Latex Gummi-Pflege, auch Talkumpuder zu empfehlen.
Auktions_KONDITIONEN : Privat-Auktion: Deshalb sind Rückgabe, Umtausch, Reklamation, Gewähr und Garantie ausgeschlossen. Freiwillig, auf Kulanz Basis und ohne Rechtsansprüche für den Käufer wird die Ware ausnahmsweise zurückgenommen und der Kaufpreis erstattet, wenn der Käufer vorher schriftlich (email reicht) plausible und gewichtige Gründe für die Rückgabe beweist. Das alles bei mir bestens abgewickelt wird, das zeigen meine positiven eBay-Bewertungen. Dieses Angebot ist von PRIVAT. Die Ware ist in meinem Privat-Besitz und ist aus meiner PRIVAT-Sammlung, nach den eBay-Richtlinien neu ! Alle Fragen bitte vor Ersteigerung klären. Verpackung UND Versand Dt. Post Maxibrief Einschreiben national EURO 4,50 und Deutsche Post Maxibrief international Verpackung UND Versand EURO 8,50 . Voraus-Zahlung bevorzugt mit PAY PAL. Bei Käufern aus dem Ausland wird nur Pay Pal akzeptiert. Verstösse gegen EBAY und gegen Gesetze und gegen Copyrights (TEXTE und FOTOs) werden geahndet. Mit der Abgabe eines Gebots werden diese Bedingungen vom Käufer uneingeschränkt anerkannt. Bitte nicht bieten, wenn mit diesen Konditionen nicht einverstanden.

Käufer aus dem Ausland müssen mit PAY PAL bezahlen !
Auction
conditions
:
private
auction
: That's why
no return
,
no
exchange,
no
complaints
,
no
warranty or
guarantee
.
Voluntary
,
a gesture of goodwill
and
without
legal rights
to the buyer
the goods
are
exceptionally
withdrawn
and the purchase
price
refunded
if
the
buyer
notifies
important
reasons
for their return.
All this
with
me
is
well
settled
that
show
my
positive
eBay
ratings
.
This
offer
is
PRIVATE
.
The
product is
in
my
private
property
and
is
new
from
my private
collection
,
according
to
eBay
policy
!
Please
clarify all questions
before
buying.
EURO
4.50
for
packing and
shipping
nationally
and
internationally
for
packaging and
shipping
EURO
8,50.
Advance
payment
preferred
with PAY
PAL
.
For buyers
from
abroad
only
Pay
Pal
is
accepted
.
Violations
of laws
and
against
Ebay
and
copyrights
(
text and photos)
will be
punished
.
By
placing a
bid,
these
terms
by buyer will be
fully recognized
.
Please
bid if
not
agree
with
these
terms
.
Buyers
from
abroad
must
pay
with
PAY
PAL
!