Kearney & Trecker Model K Spiral Dividing Head Manual
$45.00 Buy It Now <1m
Go See More Details ▸

Condition

NEW

Handling

Ships within 3 business days

Ships to

Worldwide

Returns

Covered by the Money Back Guarantee

Guarantee

Seller

100% positive feedback industrial-librarian (2,084)

Document Title: Kearney & Trecker Model K Universal Spiral Dividing Head Manual

Number Of Pages: 46
Condition Of Original: Very Good
Scan Type: Color Cover with Augmented Grayscale conversion of Contents
Scan Quality: Very Good

Description: Operators manual with Tables of Leads and Indexing Divisions for Conventional and Low Lead Attachments (U.S. Standard Leads). The first dozen or so pages are dedicated to set up and operation of the dividing head with the remainder of the manual organized into tables for leads. Nicely organized typical of K & T documentation. A nice scan. Priceless information if you own one of these heads. Get a FRESH Copy!

Product Media: Your choice of Paper Hardcopy Or PDF on CDROM.

Sample Page: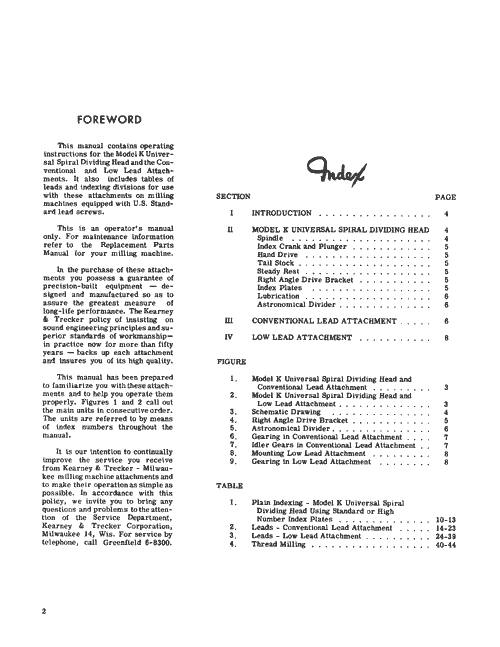 © 2008-2015 PicClick LLC.