Quantity

15 sold / 0 available

Handling

Ships within 3 business days

Ships to

Worldwide

Returns

Returns Accepted, 3 Days Exchange

Guarantee

Seller

Experienced Seller
99.6% positive feedback grizzly33bear (17,676)

Russian lens INDUSTAR-50-2 -- EXCELLENT -- for cameras with M42 screwmount.
This is 50mm / f=3.5 russian lens Industar-50-2, Black Version.
Lens has M42 screwmount. Comes without caps.
Lens is in EXCELLENT working and cosmetic condition! Glass is clear, no scratches, free of dust or fungus inside. Works properly. Focusing and stopping are smooth.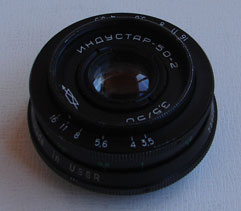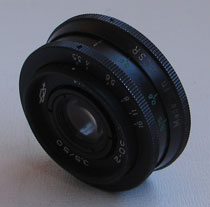 Shipped within 48..72 HRS. of Payment Receipt.
Registered AIRMAIL, Delivery Confirmation is Always Used. Announced Shipping Valid Worldwide!
THANK YOU FOR VIEWING MY ITEMS
I stand behind my merchandise 100%. If you have any problems, contact me. I answer EVERY email. If I don't respond it means I didn't get it. I believe communication is the key to all great transactions!

Email Issues - If you are not receiving emails from me as expected, it is recommended to check any local spam filters to verify that you are not blocking any grizzly33bear.com or eBay addresses. Your email provider may also be blocking these emails. If you are not blocking grizzly33bear.com address yourself, and are still not receiving grizzly33bear emails, please contact your ISP/email provider and request that they remove grizzly33bear.com and eBay Messaging from their blacklist.
I am a Certified Merchant and have merchant status for most popular credit cards - VISA, Master Card, Discover, Diners, JCB and American Express. I accept 2CO payments, PayPal payments, wire bank transfers both $ and €, etc. I don't accept MO and checks.

Once you have a winning bid, please contact me for final costs, including shipping information. I will send complete instructions on payment procedures. After your payment has been arranged, I will pack and make your order ready to ship.

I always try to ship "same day" but our respective time zones may seem to cause a one day delay. Remember, my aim is to provide you the fastest service possible.

Fast service is my goal but remember we may have 8 to 10 time zones separating us. Be assured that I answer ALL of my mail promptly. Please note also that I'm just a human. Answers to emails on nights and weekends will be handled on the next day / business day.

For your convenience I accept:

PayPal (VISA, MasterCard, Discover, AMEX, eCheck etc.)
2CheckOut (VISA, MasterCard, Discover, Diners, JCB, AMEX)
Wire bank transfer, $ or € (IBAN / BIC, SWIFT) - not recommended for payments below $100 / €100
and others...
SquareTrade © squaretrade warranty v2.0