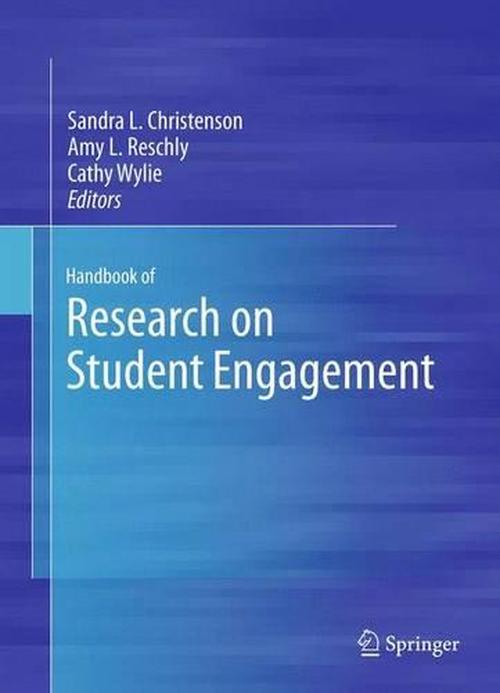 Handbook of Research on Student Engagement
Estimated delivery 3-12 business days
Format Hardcover
Condition Brand New
The knowledge base of how student engagement affects educational outcomes and career attainment has grown immeasurably in the last decade. The Handbook of Research on Student Engagement presents methods to connect and re-engage marginalized, uninterested students.
Publisher Description
For more than two decades, the concept of student engagement has grown from simple attention in class to a construct comprised of cognitive, emotional, and behavioral components that embody and further develop motivation for learning. Similarly, the goals of student engagement have evolved from dropout prevention to improved outcomes for lifelong learning. This robust expansion has led to numerous lines of research across disciplines and are brought together clearly and comprehensively in the Handbook of Research on Student Engagement. The Handbook guides readers through the field's rich history, sorts out its component constructs, and identifies knowledge gaps to be filled by future research. Grounding data in real-world learning situations, contributors analyze indicators and facilitators of student engagement, link engagement to motivation, and gauge the impact of family, peers, and teachers on engagement in elementary and secondary grades. Findings on the effectiveness of classroom interventions are discussed in detail. And because assessing engagement is still a relatively new endeavor, chapters on measurement methods and issues round out this important resource.
Topical areas addressed in the Handbook include: * Engagement across developmental stages.* Self-efficacy in the engaged learner.* Parental and social influences on engagement and achievement motivation.* The engaging nature of teaching for competency development.* The relationship between engagement and high-risk behavior in adolescents.* Comparing methods for measuring student engagement. An essential guide to the expanding knowledge base, the Handbook of Research on Student Engagement serves as a valuable resource for researchers, scientist-practitioners, and graduate students in such varied fields as clinical child and school psychology, educational psychology, public health, teaching and teacher education, social work, and educational policy.
Author Biography
Sandra L. Christenson, Ph.D., is the Birkmaier Professor of Educational Leadership, Professor of Educational Psychology, and faculty member in the School Psychology Program at the University of Minnesota. Her research focuses on interventions that enhance engagement at school and with learning for marginalized students with and without disabilities. She is particularly interested in the identification of contextual factors that facilitate student engagement and increase the probability for student success in school, and the identification of the effect of family-school partnership variables. Amy L. Reschly, Ph.D., is an associate professor and training director in the School Psychology Program, Department of Educational Psychology & Instructional Technology, at the University of Georgia. Areas of expertise include engagement and dropout prevention; working with families and schools to promote student success; and, Curriculum-Based Measurement (CBM) and Problem-Solving. Cathy Wylie, Ph.D., is a Chief Researcher with the New Zealand Council for Educational Research. She has led the longitudinal Competent Learners project since 1993. Her research interests include the interaction between experiences and student development, and identifying policies that best support school capability to provide engaging and productive learning. Her research into policy includes the impact on schools and students of New Zealand national policies, including the shift to self-managed schools since 1989.
Details
ISBN

1461420172

ISBN-13

9781461420170

Title

Handbook of Research on Student Engagement

Format

Hardcover

Year

2012

Pages

867

Edition

2012th

Publisher

Springer-Verlag New York Inc.

Dimensions

7 in. x 10 in. x 1.8 in.
About Us
Grand Eagle Retail is the ideal place for all your reading and entertainment needs! With fast shipping, low prices, friendly service and over 1,000,000 in stock books, CDs and DVDs - you're bound to find what you want, at a price you'll love!
Shipping & Delivery Times
All items will be dispatched within 1 business day. We will notify all customers via email once their orders have shipped.
Unless otherwise stated, economy services are used and delivery will take 3-12 working days, depending on the item purchased and the delivery location.
A Priority shipping option is available at checkout for some items, and if selected, delivery is 3-6 working days after handling.
International deliveries will take 1-6 weeks.
NOTE: We are unable to offer combined shipping for multiple items purchased. This is because our items are shipped from different locations.
Returns
If you wish to return an item, please consult our Returns Policy as below:
Please ensure that you contact Customer Services and request a Returns Authorization before you send the order back to us. Returns which are not prearranged cannot be accepted.
If you wish to request a return, please ensure you contact us within 10 business days of delivery.
Returned goods must be received within 30 days of the original shipment to the customer.
Returns must be in resellable condition.
Any returns are shipped at the customer's risk. Grand Eagle Retail does not take responsibility for items which are lost or damaged in transit.
Accepted returns will be refunded by the method by which you paid.
For purchases where a shipping charge was paid, there will be no refund of the original shipping charge.
For purchases where shipping was free, returned items will be refunded less a restocking fee of 10%.
Additional Questions
If you have any questions please feel free to Contact Us.