Official Collector's items
Collection of Harley-Davidson Decals
Set of 14 Large Prismatic Decals Stickers
Iconic Harley-themed Stickers
(A remarkable set of 14 hard riding biker designes )
This is a great assortment of 14 unique large Decals stickers, Official licensed product, featuring all classic Harley Davidson designes and colors, Collect the whole set at once, designes of high quality, prismatic stickers with reflective metallic effect.
Approximate measurements can be viewed down below for specifics.
Made in USA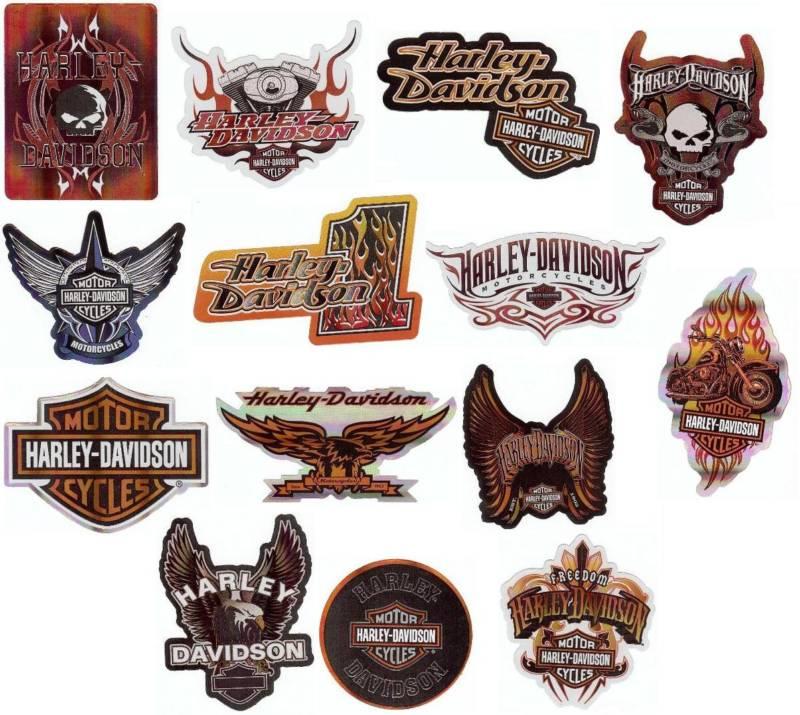 Paypal Accepted
Sticker 1: 3"x 2.75" Sticker 2: 3.25" x 2.75" Sticker 3: 4" x 2.75" Sticker 4: 3" x 3.75"
Sticker5: 3.5"x3" Sticker 6: 4.25" x 2.75" Sticker 7: 4.5" x 1.75" Sticker 8: Approx. 3"x 3.75"
Sticker 9: 3.75"x 3" Sticker 10: 4.5"x 2.25" Sticker 11: 2.75in L x 3in Sticker 12: 3" x 3.25"
Sticker 13: 4.5" x 2.5" Sticker 14: 2.75in diameter
Stickers come brand new, each numbered on the back from 1 to 14, one for each of all 14 Harley Davidson Motorcycle iconic designes
Perfect for dens, lockers, notebooks, perfect for collecting, and gatherings
These Harley Davidson Decals Stickers come in sets of 14, very high quality with 14 different designes and vibrant colors.
Long awaited item is now ready for shipping.
Stickers will be shipped in thick card board folders for protection during shipping.
Collectibles are shipped promptly with tracking number for your convenience.
2 to 3 day shipping.
We accept Paypal as well as e-checks and credit cards through paypal.
Payment must be received within 7 days of purchase
We do Combined Shipping
Official Licensed Product
NOT RECOMMENDED FOR CHILDREN UNDER 3 YEARS OF AGE
Harley-Davidson (NYSE: HOG, formerly HDI[2]), often abbreviated H-D or Harley, is an American motorcycle manufacturer. Founded in Milwaukee, Wisconsin, during the first decade of the 20th century, it was one of two major American motorcycle manufacturers to survive the Great Depression.[3] Harley-Davidson also survived a period of poor quality control and competition from Japanese manufacturers.[4]
The company sells heavyweight (over 750 cc) motorcycles designed for cruising on the highway. Harley-Davidson motorcycles (popularly known as "Harleys") have a distinctive design and exhaust note. They are especially noted for the tradition of heavy customization that gave rise to the chopper style of motorcycle.[5] Except for the modern VRSC model family, current Harley-Davidson motorcycles reflect the styles of classic Harley designs. Harley-Davidson's attempts to establish itself in the light motorcycle market have met with limited success and have largely been abandoned since the 1978 sale of its Italian Aermacchi subsidiary.
Harley-Davidson sustains a loyal brand community which keeps active through clubs, events, and a museum. Licensing of the Harley-Davidson brand and logo accounted for $40 million (0.8%) of the company's net revenue in 2010. (Wikipedia encyclopedia).