ANTIQUE/VINTAGE GRIFFON XX 38 STRAIGHT RAZOR: MAGNETIC
MADE BEFORE 1940 BY: GRIFFON CUTLERY WORKS GERMANY,
38 GRIFFON XX, WHICH IS ENGRAVED!
BLADE IS INSCRIBED: "UNCLE JOE'S PRIDE"
LENGTH CLOSED: 6 inches
HANDLE COLOR: LIGHT YELLOW OR BLONDE
HANDLE, LIKELY PLASTIC
WEIGHT: ONE OUNCE
CONDITION: HANDLE IS IN VERY GOOD
CONDITION.
BLADE IS VERY SHARP, &
BLADE HAS SOME DARKER MARKS
ON IT, VERY OLD & NEEDS RESTORING.
BLADE IS FREE OF NICKS OR CHIPS.
BLADE IS MAGNETIC!
____________________________
INFORMATION IN THIS LISTING:
Some of the Information in this listing
is my opinion, gathered by researching
antique/ vintage straight razors on many internet
websites.
RESTORED VALUE OF ANTIQUE/VINTAGE RAZORS:
IF RESTORED PROPERLY, ANTIQUE/VINTAGE
STRAIGHT RAZORS ARE VERY VALUABLE!!
Information quoted from internet website: 14to42.net/quik01.html
"The
Griffon Cutlery Works
was founded in 1888 by Albert L. Silberstein (1866-?). They manufactured razors, nail files and a great many types of scissors, including (as the signs say) pinking shears, nippers and manicure sets, as well as "Ladies' Button Hole" scissors. Their trademark registration also mentions embroidery scissors, poultry shears, barber shears, tweezers, pushers, blackhead removers and nose scissors.
Originally located on Broadway (until around 1915), then at 74-76 Fifth Avenue, they moved into this building on West 19th Street in 1920 and remained here until 1968. They also had a factory and branch outlet in Solingen, Germany.
These signs probably date from the early 1920s. A little re-touching, however, took place later. In the 1940s Griffon decided to rename itself Griffon Cutlery Corp. instead of Griffon Cutlery Works. So "Corp" was painted over the word "Works" in the bottom right.""
COMPANY WAS NAMED, GRIFFON CUTLERY WORKS
UNTIL THE 1940'S. IT WAS RE-NAMED GRIFFON CUTLERY CORP.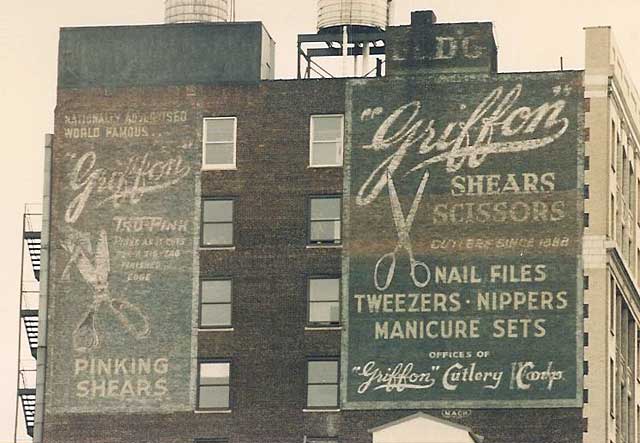 Warning: Straight Razors are VERY SHARP and can
cut very deep! Please handle razors very
carefully. Keep away from children!