Disney Deluxe Pin Trading Lot


You will receive 50 random pins.
Some are shown in this listing
This lot contains Open Edition ,Limited Edition and Hidden Mickey pins
Most pins are in MINT condition, but some may show signs of trading
This includes minor scratches, blemishes, chips or wobbly pin posts
If you are looking for pins to trade at the parks, this lot is for you!
Most pins will come protected in it's own zip lock bag
There are NO German ProPins, No EuroDisney Pins and No Spanish Sedesma pins
Every pin in this lot is 100% tradable in ALL Disney parks around the world!
Going to Disney can be expensive, so buy your pins now and save!
If you wait to buy your pins in the park, you will pay between $7 and $15 for 'rack' pins. Some limited edition pins go for well over $100!
This lot of pins can easily cost you $350 if you bought them at one of the parks!


All payments must be made within 24 hours of the end of the auction
All payments must be made using PayPal
If bidding on multiple items payment must be made within 24 hours of combined invoice


Don't have a PayPal account - no problem - Click Below
Sign up for PayPal; the fast, easy, and secure way to pay online.

Shipping is combined for multiple items
Wait to receive combined invoice before paying
All items are sent via the USPS
First Class / Parcel Post / Media Mail / Priority Mail / Express Mail
To receive your combined shipping discount, all payments must be made as a single payment via PayPal
Most
items are shipped within 24 hours of payment
All items are shipped within 48 hours of payment
Local pickup is not available
Not responsible for items damaged or lost during shipping
If you are worried about your purchase being damaged or lost in shipping, please buy insurance
Link to our eBay Store

All auctions have no reserve
Most auctions start at 99 cents or less

Buy It Now auctions require immediate payment
No auction will be ended early
Don't bid if you don't plan to pay
All non paying bidders will be reported to eBay
All items are used unless specified as NEW
All items are as-is
All sales are final
Not responsible for items damaged or lost during shipping
If you are worried about your purchase being damaged or lost in shipping, buy insurance
If you do not agree with any of these conditions, please do not bid.
Bidding on this item indicates that you have read and understand these conditions

Thanks, and Good Luck!

We deal primarily in
Official, Licensed
, Disney Pin Trading pins. These pins come from our many trips to Walt Disney World and Disneyland where we trade with both cast members and other guests. A majority of the pins come from collections we buy at auction or estate sales. We get pins in all sorts of condition, raging from mint (still on their card) to heavily traded(some scratches). The pins that have been heavily traded are normally put in what we like to call 'trader lots'. These lots contain pins that are great for trading at the parks. Pins that are in better condition are normally listed as singles, or sets. Because of the large number of pins we buy at auction, we almost always have something running on eBay.
Make sure to check our other listings for more Limited Edition, Cast Member Exclusive, and Hidden Mickey pins. We carry pins for ALL Disney characters, including everyone's favorites: Mickey Mouse, Minnie Mouse, Donald Duck, Daisy Duck, Tinker Bell, Winnie the Pooh, and many more!
If you are looking for a large quantity of pins for trading, and don't mind a few duplicates, let us know and we can put together a special listing just for you!! You can save a lot of money when buying 50+ pins.
Occasionally, we will have non Disney items listed. These items are always interesting because we never know when we will be getting these.
Positive feedback is very important to us. For that reason, we leave Positive Feedback for all of our buyers only after the buyer has left feedback for us. This is our way of assuring that the buyer has received their item, and is happy with the transaction. When we see the buyer's feedback, that tells us that we did our job and delivered the item to the buyer's satisfaction.
Check our eBay store for more Limited Edition and Hidden Mickey Pins
 
You can always see all of our items by visiting our eBay store or web site
Link to our eBay Store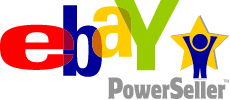 All communication must be done using the eBay email system
Any email sent outside of eBay will not be answered
You can always see all of our items by visiting our eBay Store
Link to our eBay Store