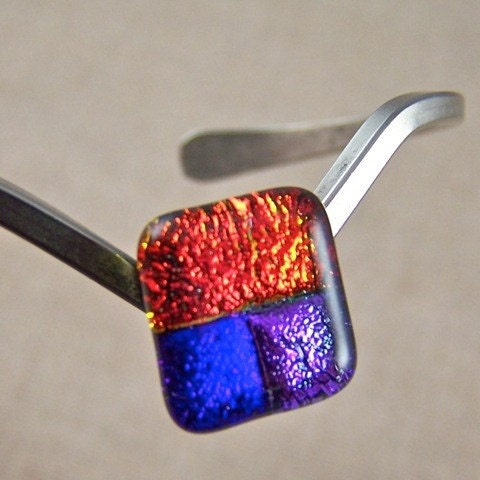 Dichroic Bracelet - Copper Orange Cobalt Blue Purple Violet Patchwork V Cuff Fused Glass - 1/2" 12mm
Dichroic Bracelet - Copper Orange Cobalt Blue Purple Violet Patchwork V Cuff Fused Glass - 1/2" 12mm
Dichroic Bracelet - Copper Orange Cobalt Blue Pink Violet Patchwork V Cuff Fused Glass - 1/2" 12mm.......... Adjustable "V" Cuff Bracelet. This fused glass cuff bracelet is composed of candy apple red, cobalt and violet dichroic glass. We have arranged the glass to form a quilted motif. 5/8 " nugget.

It is not possible to capture all the nuances of dichroic glass in photographs. That, of course, means that you will have an even more dynamic piece of jewelry when you are wearing it. We work primarily with dichroic glass. Di-chroic means two colored, or multicolored) . This type of glass transmits light in one wavelength, & reflects light in two other wavelengths. It is common for dichroic glass to appear as 2 or 3 different colors, simultaneously. Dichroic glass is coated with electronically excited metallic particles in a vacuum chamber, at elevated temperatures. In our studio, we start with large sheets of glass which we cut into small pieces. These pieces are specially arranged & melted together in a kiln to form our jewelry.

This cuff bracelet has been handcrafted at Hayden Brook Studios. Bethlehem, PA, USA.
$0.00
Find out more
Click here to Learn more...