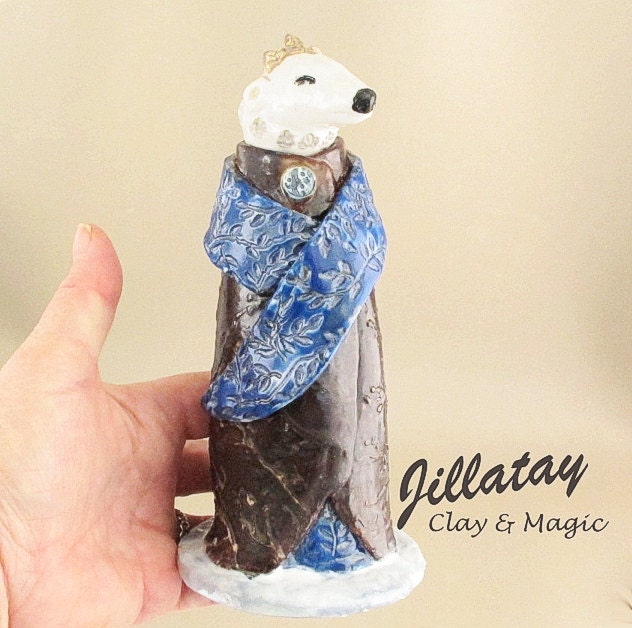 Polar Bear Art - Ceramic Sculpture Vessel in Dark Chocolate Royal Robes and Blue Stole - Zoomorphic Vessel by Jill Taylor
Polar Bear Art - Ceramic Sculpture Vessel in Dark Chocolate Royal Robes and Blue Stole - Zoomorphic Vessel by Jill Taylor
Polar Bear Art - Ceramic Sculpture Vessel in Dark Chocolate Royal Robes and Blue Stole - Zoomorphic Vessel by Jill Taylor Now with 22 carat gold luster on his crown.

Another Polar Bear in a royal robe, an approximately 6 inch tall miniature jar, this time in a dark chocolate and royal blue outfit. If your sweetie likes Polar Bears, this is the perfect gift. It's as if he stepped out of a fantasy world.

The head is a stopper like on all my jars, and can be turned to change the whole feel of the piece. I call them interactive sculptures. They are a variation on my larger lidded jars which were inspired the canopic jars of Egypt. See my shop for examples. Not for holding liquids as the head is not tight fitting but can hold anything else.

High fired porcelain with glaze and stains.

I love making polar bears, see my sold items for other examples.

Buy more than one animal. They make a great little family.

Want to see more of my items for animal lovers, click here: http://www.etsy.com/shop/jillatay?section_id=7757088

Return to my main shop page here http://www.etsy.com/shop/jillatay

Please keep in mind: 1. Every computer screen is different and colors may not appear exactly as seen 2. These are handmade items, by one artist, and are not factory made. Please allow for slight imperfections 3. I am a one woman show and have no outside help (other than my generous husband) so any communications are done with a real living breathing person. Please be kind. 4. I have 100% positive feedback, I am diligent and do my best to bring joy to each customer.
$0.00
Find out more
Click here to Learn more...