SEXY CALENDAR
by MAX ITALY 2001
MEGAN GALE
Photos by Gavin O'Neill e Andreas H. Bitesnich
4 OF 12 FANTASTIC PHOTOS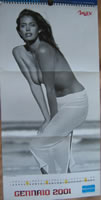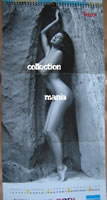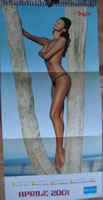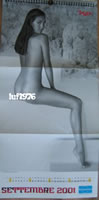 | | |
| --- | --- |
| DESCRIZIONE DEL CALENDARIO | CALENDAR'S DESCRIPTION |
| DIMENSIONI (cm): 65 x 32 | SIZE (inch): 25,6 x 12,6 |
| DEMENSIONI RIPIEGATO (cm): 32 x 23 | FOLDED SIZE (inch): 12,6 x 9 |
| CONDIZIONI DEL CALENDARIO | CALENDAR'S CONDITION |
| Il calendario è in ottime condizioni e non presenta particolari difetti. | The calendar is in good condition of the maintenance. It doesn't have any particular imperfection. |
| | | |
| --- | --- | --- |
| | INFORMATION | |
PESO DEL CALENDARIO
CALENDAR'S WEIGHT

260 g

9,17 oz

ACQUISTA PIU' OGGETTI PER RISPARMIARE SULLE SPESE DI SPEDIZIONE

BUY MORE ITEMS TO SAVE SHIPPING AND HANDLING COST

CLICK QUI per vedere tutte le spese di spedizione combinate in base al peso e gli sconti promozionali relativi all'acquisto di molti oggetti

CLICK HERE to see shipping and handling costs and special discount if you buy many items. The shipment cost change depending on the weight of the items.
PAYMENT

ITALIA

INTERNATIONAL

CONDIZIONI PER IL PAGAMENTO
CONDITIONS FOR THE PURCHASE

- PAYPAL

- BONIFICO BANCARIO

- VAGLIA POSTALE

- ALTRI PAGAMENTI (contattatemi)

- PAYPAL

- BANK TRASFERT

- OTHER PAYMENTS (EURO-USD-UK£) contact me

- Il pagamento deve avvenire entro 10 giorni successivi all'acquisto dell'oggetto, nel caso di ulteriori ritardi si prega di comunicare il problema via e-mail, altrimenti dopo i suddetti 10 giorni seguirà una segnalazione a Ebay come acquirente non pagante e perdita dell'oggetto acquistato.

- Metodi di spedizione economici non tracciabili (posta prioritaria e ordinaria), sono a rischio dell'acquirente che le richiede, non mi assumo responsabilità per negligenze da parte del servizio postale.

- The payment is due within 10 days after the purchase, in case of delay, please contact us by e-mail. In case of missing payment within 10 days, or if I don't receive any notice from the client, I will resell the item and the client will receive a notification as outstanding payer.

- Should the client wish cheaper and no traceable delivery (by priority mail or by ordinary mail), he will have the total responsibility. In case of missing delivery there will be no reimbursement from the postal service.
| | |
| --- | --- |
| | FOR ANY FURTHER INFORMATION, PLEASE DON'T HESITATE TO CONTACT ME |
| | PER QUALSIASI DOMANDA NON ESITATE A CONTATTARMI |
| | | |
| --- | --- | --- |
| | ENTRA QUI PER FARE RICERCHE AVANZATE NELLE DESCRIZIONI DI TUTTI GLI OGGETTI IN VENDITA NEL MIO NEGOZIO EBAY COLLECTIONS MANIA (riviste, calendari, cataloghi di moda, poster) | |
VISITA IL MIO NEGOZIO EBAY

VISIT MY EBAY STORE
| | | |
| --- | --- | --- |
| | CLICK HERE FOR ADVANCED SEARCH, YOU CAN FIND MORE INFORMATION ABOUT ALL ITEMS ON SALE IN MY EBAY STORE COLLECTIONS MANIA (magazines, calendars, fashion catalogues, posters) | |


Creato da Turbo Lister
Strumento gratuito per mettere in vendita i tuoi oggetti. Metti in vendita i tuoi oggetti in modo facile e veloce e gestisci le inserzioni in corso.