Hello ! We are a MUSIC CDs & DVDs STORE located in ARGENTINA
ALL OUR CDs and DVDs ARE ORIGINALS, BRAND NEW, FACTORY SEALED AND DIRECT FROM THE MANUFACTURER
ALL OUR CDs and DVDs CAN PLAY IN ANY CD or DVD PLAYER IN ALL COUNTRIES
---
CHAMBAO
CAMINANDO 2001-2006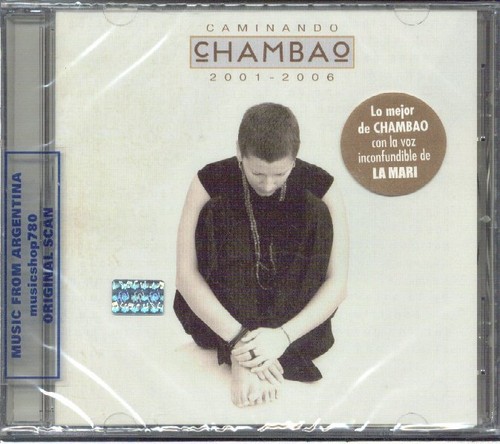 CHAMBAO, CAMINANDO 2001-2006 . FACTORY SEALED CD. IN SPANISH.
You could go to our ebay store MUSIC FROM ARGENTINA and add more CDs or DVDs to this order. This will be convenient for you, because the shipping cost per CD or DVD will be cheaper. Then, you can pay all together in one payment.
Tracks CD:
1 PLAYAS DE BARBATE
2 VERDE MAR
3 INSTINTO HUMANO
4 CHAMBAO
5 AHI ESTAS TU
6 LOS MUCHACHOS DE MI BARRIO
7 MEJOR ME QUEDO AQUI
8 UNA DE TANTAS
9 AS DE CORAZONES
10 MI PRIMO JUAN
11 POKITO A POKO
12 ULERE
13 ROE POR LA ESCALERA
14 DIBUJO EN EL AIRE
15 SUEÑO Y MUERO
16 TE LA CREIO TU
17 ROSA MARIA
BUY WITH CONFIDENCE !
THIS CD IS NEW, FACTORY SEALED, UNPLAYED, ORIGINAL.
OFFICIAL RELEASE, BMG 00706730.
We don't sell bootlegs or CDRs, we have only original pressings.
All items are guaranteed.
---
YOU CAN FIND MORE CDs & DVDs FROM ARGENTINA AT OUR EBAY STORE.
MUSIC FROM ARGENTINA EBAY STORE

CLICK HERE TO SEE OUR EBAY STORE