Store Categories
Store home
Musical Instruments

Toys & Hobbies

Dolls & Bears

Clothing

Crafts

Pet Supplies

Jewelry & Watches

Home & Garden

Health & Beauty

Business & Industrial

Home Art Craft

Wholesale

Other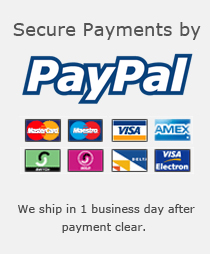 Black 5 String Humbucker Electric Guitar Pickup Bass

SKU: W000104941

Specification:

Color: Black
Resonant Frequency (KHz): 4.3
RMS Output Voltage: 1.4
Peak Output Voltage: 2.0
Output Noise (dBV): -115
Output Impedance (Kohm): 2
Current at 9V (Microamps): 220
Battery Life (Hours): 1200
Maximum Supply (Volts DC): 27
Resistance: 11.7-12.7K
Dimension: 4 x1.4 x 0.8inch/ 9.8 x 3.5 x 2.1cm(L x W x T)




The product is new, never used and in good conditon, just go ahead and buy!

Package includes:

Note: This pickup can be active or inactive: if it is used alone, it is inactive; if it is used with amplifier and equalizer, it is active.
Shipping And Handling Policy
The buyer is responsible for any applicable import duties and local taxes. Please verify with your customs before making your purchase.
Please verify your address during checkout. We are not responsible for any wrong or undeliverable addresses.