Porcelain Creamer

by Reinhold Schlegelmilch, Germany


approximately 4 1/2" x 2 3/4" x 3 3/8"h.



This is a beautiful little creamer with a few problems. Most notably is a hairline at the base of the handle. Quite a bit of the gold trimming has worn and though difficult to see, there are several chips around the base.

Please "supersize" the images above to see fine details and assess the condition of this item. Feel free to contact us - your questions are welcome and will be promptly answered.

We attempt to describe in detail and photograph even the most minor bump or scrape. We pack each item with great care and our gallery is smoke free.

We charge a flat shipping rate within the United States. If this rate exceeds the actual shipping charge by $1.00 or more, it is our policy to refund the difference. International buyers should contact us for shipping charges.
Please visit our eBay store, Alexandria Adams Fine Art Gallery, to view our collections of fine products: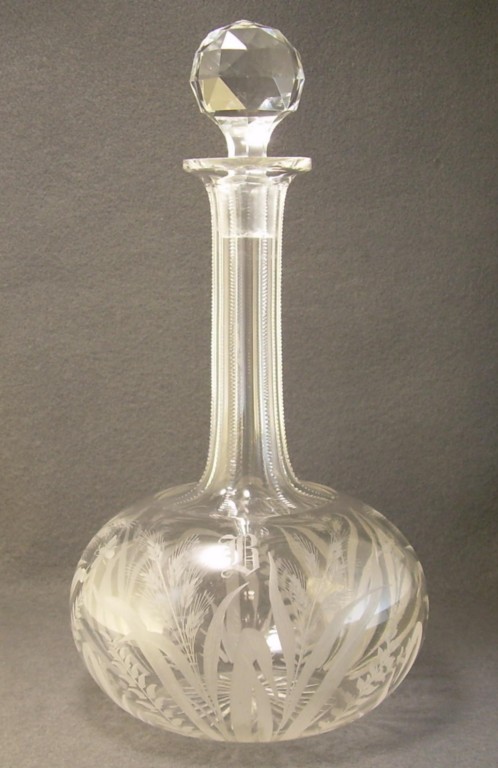 China, Crystal and Glass

http://stores.ebay.com/Alexandria-Adams-Fine-Art-Gallery_Pottery-China-and-Glass_W0QQ_fsubZ603800011QQ_lnsZ1QQ_sidZ148370301QQ_trksidZp4634Q2ec0Q2em322
Peacock Studio Greeting Cards
Original Art Cards by Peter Paone
http://stores.ebay.com/Alexandria-Adams-Fine-Art-Gallery_Peter-Paone-Art-Greeting-Cards_W0QQcolZ4QQdirZ1QQfsubZ6389616QQftidZ2QQtZkm
Vintage and Antique Toys and Dolls

http://stores.ebay.com/Alexandria-Adams-Fine-Art-Gallery_Toys-and-Hobbies_W0QQ_fsubZ603801011QQ_sidZ148370301QQ_trksidZp4634Q2ec0Q2em322
Silver and Metalware
http://stores.ebay.com/Alexandria-Adams-Fine-Art-Gallery_Silver-and-Metalware_W0QQ_fsubZ1658859QQ_sidZ148370301QQ_trksidZp4634Q2ec0Q2em322

Towers and Turrets Victorian Arts
Fine Decorations for Festive Occasions
http://stores.ebay.com/Alexandria-Adams-Fine-Art-Gallery_Towers-and-Turrets-Ornaments_W0QQcolZ4QQdirZ1QQfsubZ532160QQftidZ2QQtZkm

Antiques & Vintage Art Pottery
http://stores.ebay.com/Alexandria-Adams-Fine-Art-Gallery_Art-Pottery_W0QQcolZ4QQdirZ1QQfsubZ6455570QQftidZ2QQtZkm

Home for All Seasons
Illuminated Ceramic House and Accessories
http://stores.ebay.com/Alexandria-Adams-Fine-Art-Gallery_NEW-Home-for-All-Seasons_W0QQcolZ4QQdirZ1QQfsubZ8821554QQftidZ2QQtZkm
The Charities We Support
Donations from the sales of many of our items are made to the following:

Habitat for Humanity
http://stores.ebay.com/Alexandria-Adams-Fine-Art-Gallery_Support-Habitat-for-Humanity_W0QQcolZ4QQdirZ1QQfsubZ15074560QQftidZ2QQtZkm
The Leukemia & Lymphoma Society
http://stores.ebay.com/Alexandria-Adams-Fine-Art-Gallery/Andrews-Page-Leukemia-Lymphoma.html

MANNA
http://stores.ebay.com/Alexandria-Adams-Fine-Art-Gallery_Support-MANNA-AIDS-Charity_W0QQcolZ4QQdirZ1QQfsubZ6956866QQftidZ2QQtZkm

Susan G. Komen for the Cure
http://stores.ebay.com/Alexandria-Adams-Fine-Art-Gallery/SusanKomen-Breast-Cancer-Foundation.html

U.S. Fund for UNICEF
http://stores.ebay.com/Alexandria-Adams-Fine-Art-Gallery_Support-UNICEF-Childrens-Chrty_W0QQcolZ4QQdirZ1QQfsubZ15070233QQftidZ2QQtZkm