Antique Georgian Seed Pearl and 12k Gold Mourning Brooch, Pendant, Hair Plaiting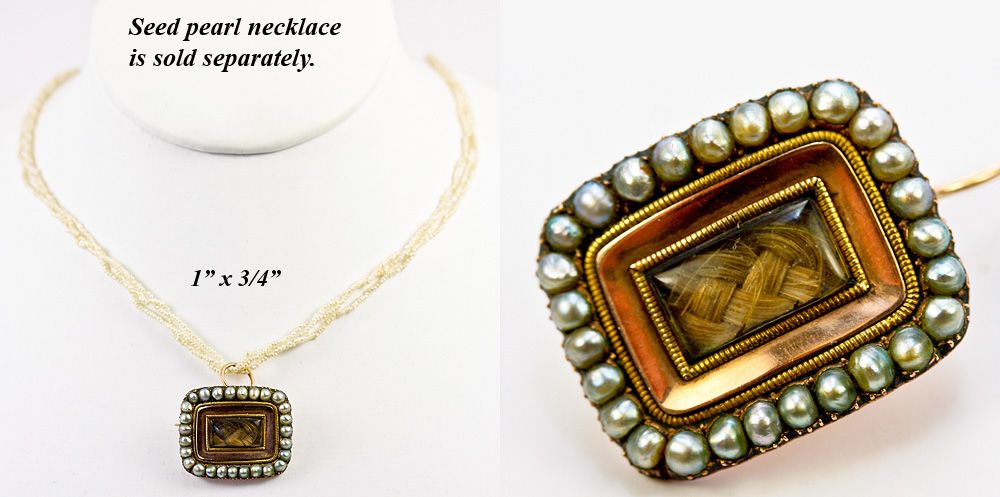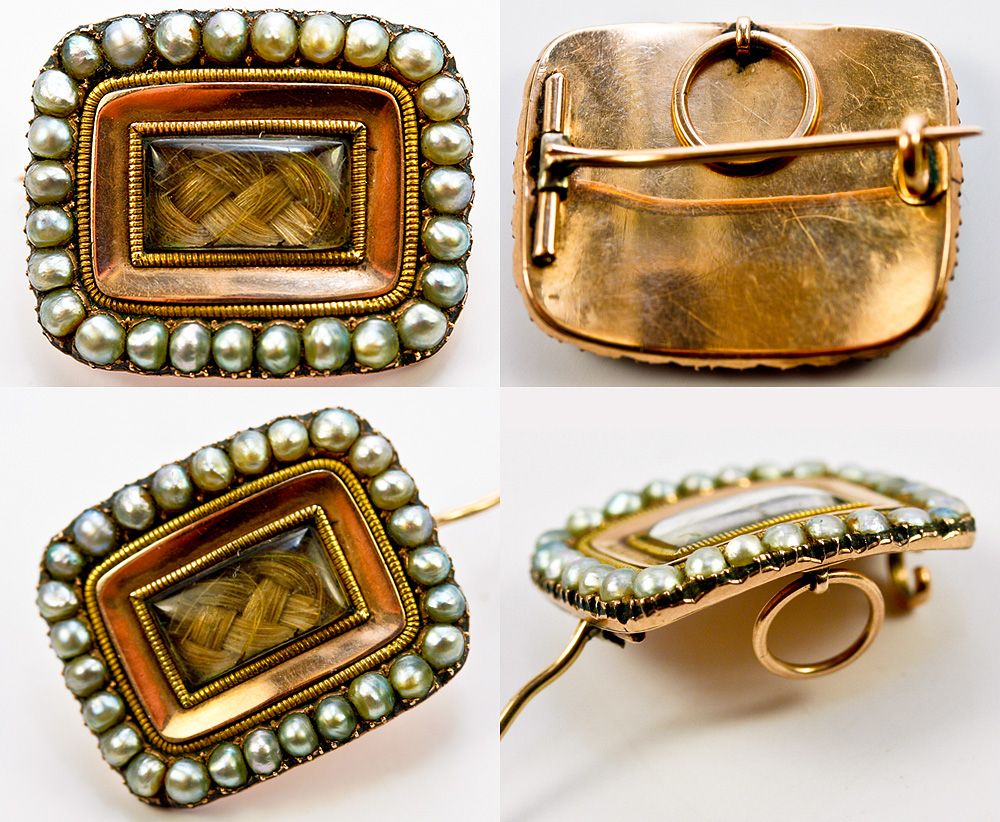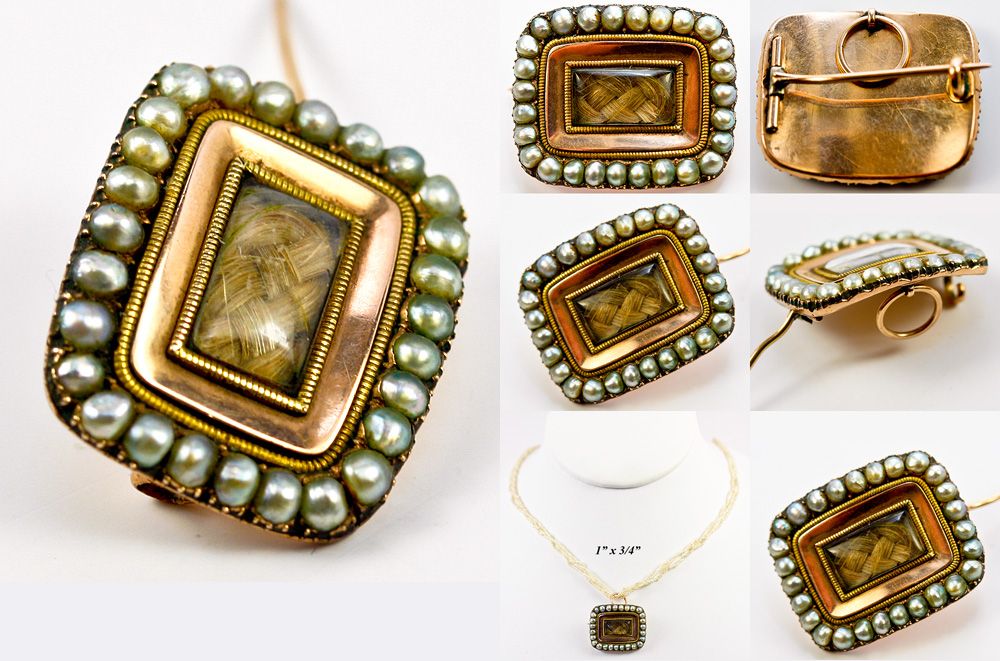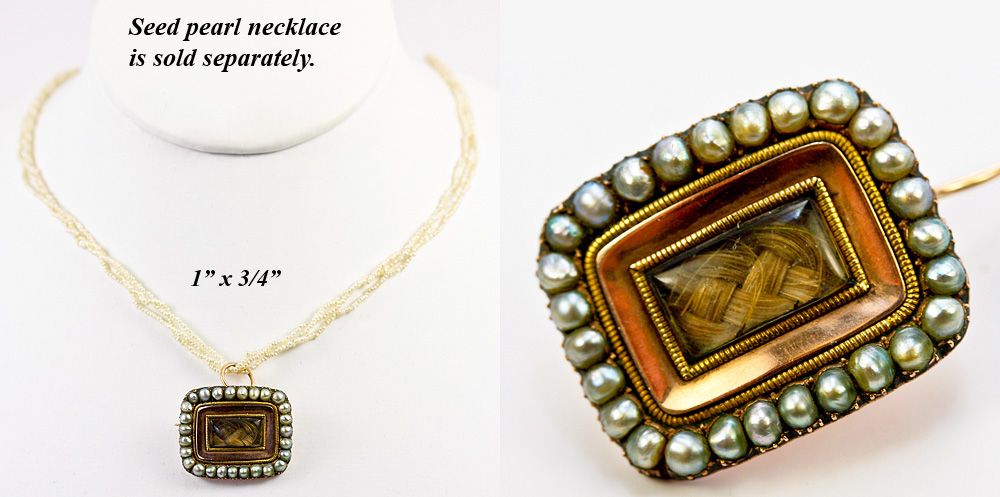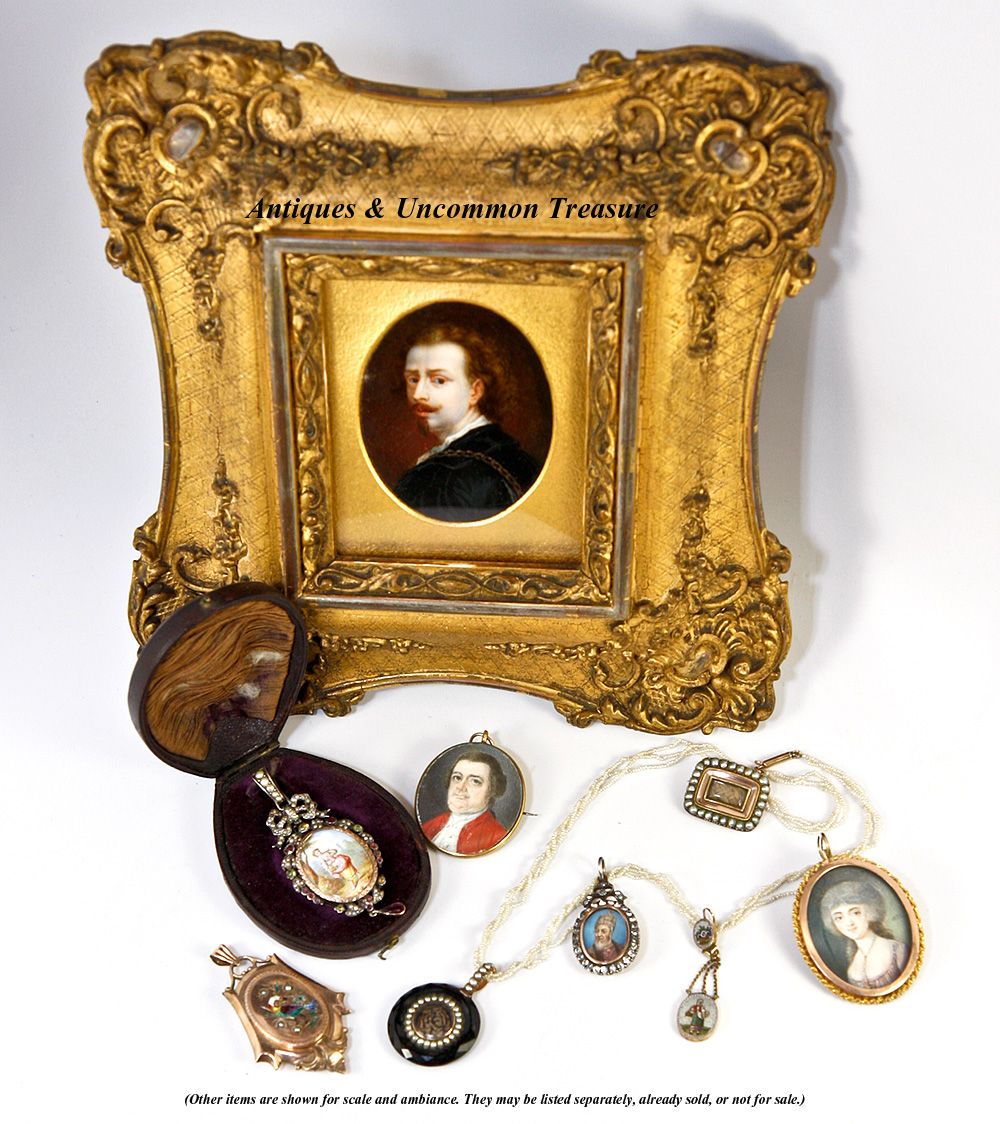 All items and photos are the express property of Antiques & Uncommon Treasure. No reproduction without prior written consent. If you like what you see, be sure to click here to add us to your Favorite Ebay Seller's List. We'll be sending out sale notices and special deals to our 'Favorites' customers.

I really do love these old seed pearl jewelry items. I have in mind to have about 15 of these worked into a necklace with pearls between them. Wouldn't it be pretty! But in the meantime, since I may never get that project commissioned, I thought I'd list a few of the ones I've collected over the years so that they can be enjoyed. This one is a bit larger than most, and is of spectacular quality, condition. The quartz crystal remains clear and undamaged and you can still see the plaiting of blond lock of hair within it. While it is not always the case, more often than not when we see this light blond, the hair is that of a child who has died very young. We know that from the engraving on backs of some, and though this one has no engraving, I suspect it remembers a beloved toddler. These date from Georgian to earliest Victorian era, (c.1770-1830) and this one is a bit unique in that it is both a brooch and/or pendant and can be worn in either way. The seed pearls that encase the 12k gold mount represent, as you might know, the tears of the mourner. They are all well matched and are original and superb to this day, with high pearlescent shimmer to them. A fine piece!



Very good to excellent condition throughout. I have not tried to pry out the aperture's inset frame, but this is the type that does lift out from the front of the locket. It is in such pristine condition, one would hate to change it or try to remove the original blond lock of plaited hair that is entombed within, memento of someone's lost loved child, no doubt. Gold has been acid tested and is solid 12k yellow gold. Seed pearls are all highly pearlescent after 200 years or so, and the quartz crystal aperture 'glazing' is clear and undamaged, as well. A superb and larger-than-usual museum piece.
Image Hosting by Ruby Lane
Return Policy:
We always honor a 3-day return on our items, and guarantee them to be as described. Money back, less shipping costs, which are not refundable, so ask questions if necessary. We're easy to deal with.


Shipping and Handling Policy:





You are very important! Our fine inventory is very important. And your ranking of our performance is also very important! We wish to keep our 4.9 - 5 star ratings in all categories. Customer satisfaction is paramount with us, so if you're thinking we have not deserved your highest marks, please contact us and allow us to be sure your concerns are completely satisfied before you rank us. We aim for 5-star transactions every day, and depend upon you to tell us directly if we have not yet met that standard for your transaction. Thank you! We most often use USPS for our shipping needs but will be happy to ship by another carrier if you prefer.


We charge only actual postage & insurance, never a handling fee and never for packaging materials. Ebay is now requiring that our clients rank us on "shipping". The shipping price, speed and handling are actually under the sole control of the delivering postal agency, not Antiques & Uncommon Treasure so please remember that and leave us high DSR rankings. As always, please also feel free to contact us if you have any problems or concerns, we'll do what we can to ensure a happy and mutually enjoyable transaction.



Insurance has been eliminated as an option by ebay, forcing us sellers to either ship your items without insurance or assume that expense also. We always insure our items BUT, more importantly, pack them extremely well knowing that most are not replacable. Again, damage in transit, while rare in our experience, is due to the postal agency handling and not caused by Antiques & Uncommon Treasure. Please remember that when leaving DSR ratings. Thanks!


Our shipping days are Tuesday and Friday, paid items will be shipped on the first shipping day after payment is recieved (except when special circumstances exist). We prefer to use USPS whenever possible, and require all packages to be insured. If you prefer another method of shipment, please mention it. We charge only actual expense of shipment/insurance, except in the case of larger items which must have special wood crates built. Wood crate charge, when applicable, is a flat $35.00 in addition to actual postage & insurance charges.

Other Information:
8.75% sales tax applicable as of April 1st, 2009 for shipments & sales within the state of California, no exceptions. If you are within CA and are a dealer buying for resale, you must provide us your active resale certificate # and acknowledgment of intent to resell or we will have to collect sales tax. No exceptions.

Auction Payment Methods:
Paypal: E-Check, Visa, Mastercard, etc.. Credit card payment by online service only, no direct processing.