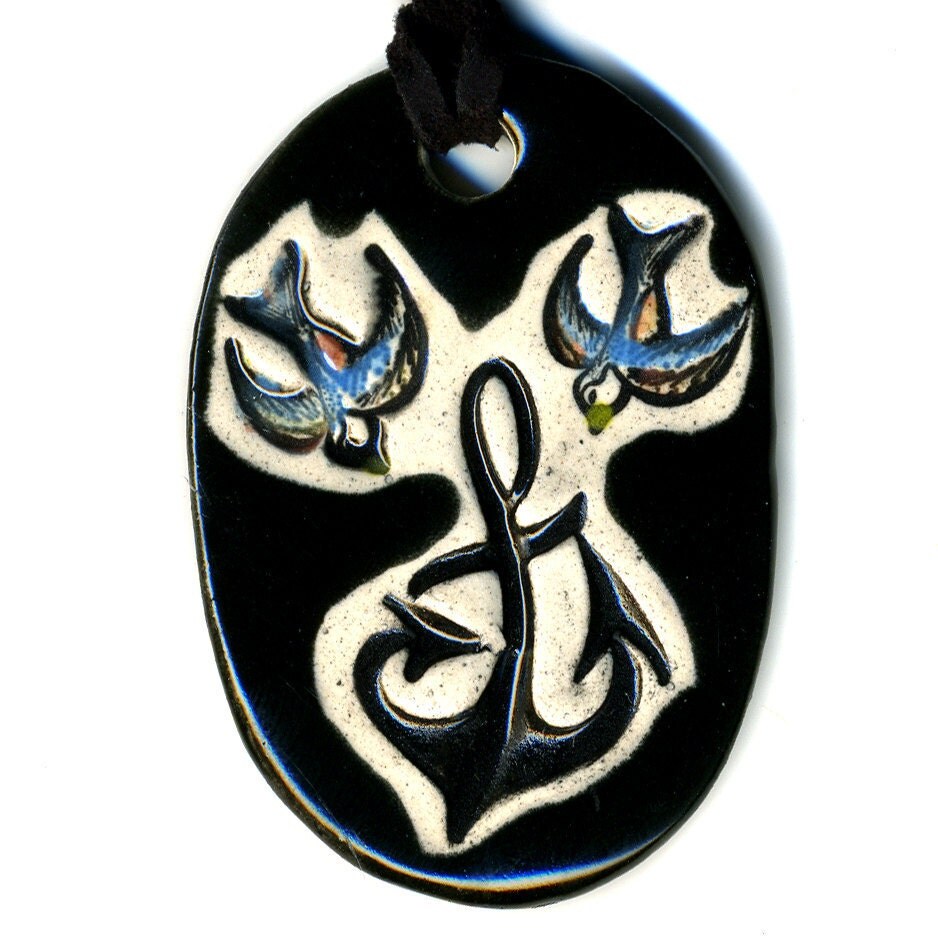 Anchor and Swallows in Gray
Anchor and Swallows in Gray
This is a unique, hand-formed and hand painted ceramic oval shaped necklace with a tattoo inspired design made by Surly Johnny and Surly Amy at Surly-Ramics. This necklace has one of our small size pendants. Surly Johnny formed the piece and I painted it.

The necklace is painted in a shiny black glaze with black, blue, red and white details.

Will look great on a man or a woman and I have posted a few photos of surly Johnny and Surly Ashlee wearing similar shaped pieces.

This piece is inspired by old-school wartime tattoo designs.
Something a sailor or navy man would get on his arm. The swallows are symbolic of a safe return home (the swallows fly home every year to Capistrano...I grew up in San Juan Capistrano) and of course you drop anchor when you have reached your destination.I have been told that the anchor is also a symbol of hope! Very cool!

The ceramic piece is approx. 2.25" h and has an 18" leather cord. **************I will be happy to add a longer cord if you let me know via message to seller during checkout. Please let me know if you need 20", 22", 24" or 26"***********

We stamp every piece on the back for authenticity so you know you're getting an original, high quality, artist made, Surly Ramics design.


The necklace comes packed in a pretty little black box and is perfect for gift giving. (even if the gift is for you!)

You can find out more info about Surly Amy and Surly Johnny (Woohoo!) and Surly-Ramics and see our other designs and lots more photos at surlyramics.com

Thank you for looking and thank you for buying handmade!
$0.00
Find out more
Click here to Learn more...