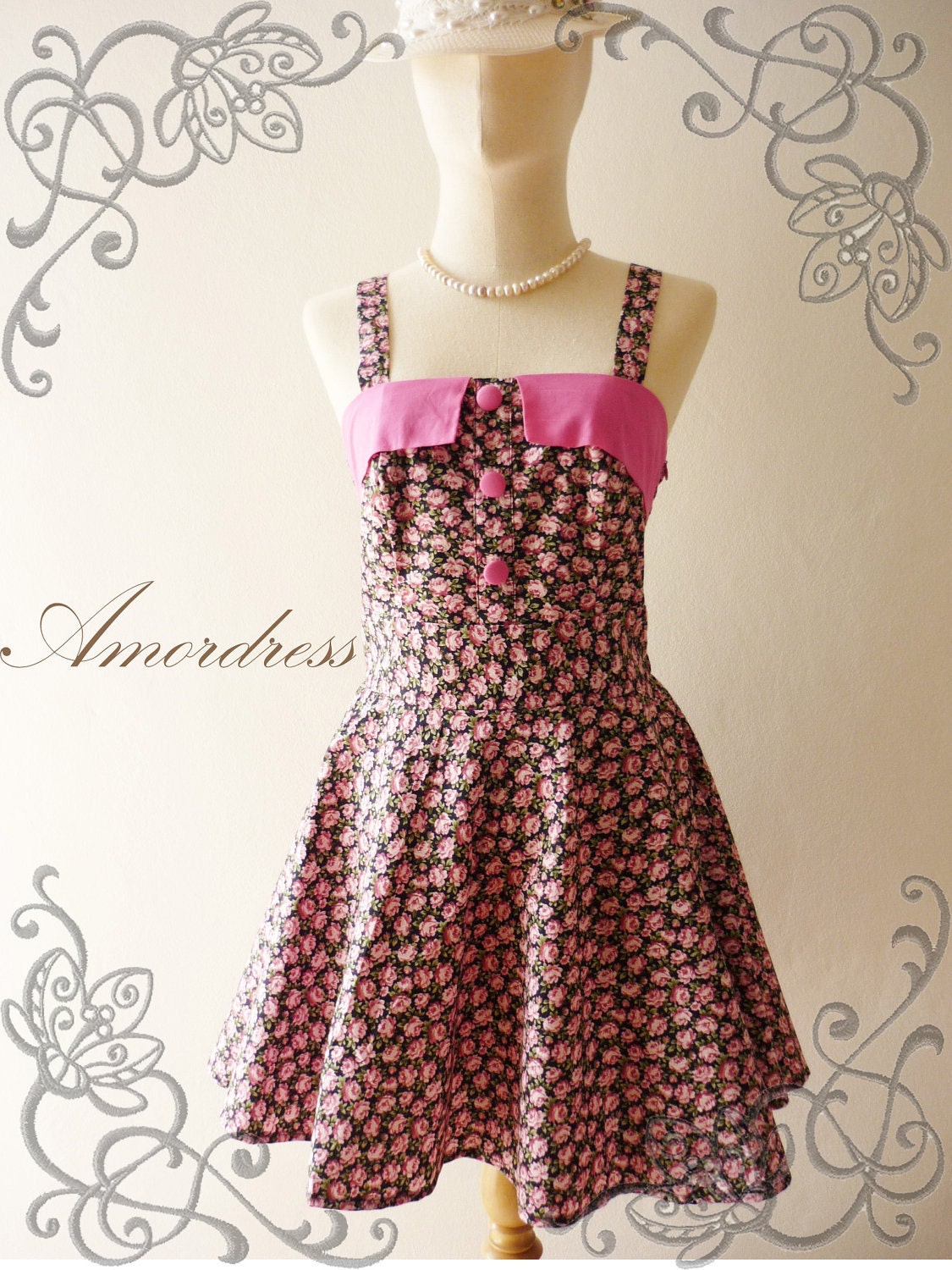 Floral Mini Dress
Floral Mini Dress
SEE SIZE CHART?HERE=> https://www.etsy.com/listing/104778435/standard-size-chart-amordressNever be more romantic♥

♥The design is so sweet for any special occasion , party or everyday dress.
♥I used great quality Japanese cotton which is Black background and pink rose bud the printed is clean and bright, fabric is soft and easy to clean and iron.
♥So sweet design, halter dress which bust line is cute fold down pink stripe and make simply lovely detail of handmade pink button, so sweet and feminine.
♥ The bust and waist is elastic at back so comfy to wear and fit well to many kind of body type. also easy to wear with side zipper.
♥ The hem is gorgeous Taylor Swift flinge style ( So I called swifty inspired) stay in proper good flinge skirt so vintage and sweet.
♥ Sewing and cutting is neat.
♥ Team this sweet dress with lovely clutch, flat , high heels.


***Listing not including any accessories.


****♥M A T E R I A L♥****
100% Cotton.
----------------------------------------------------
****♥S I Z E♥****

Free Size best fit XS-S( Check measurement below too.)
Chest: Free( from 28-34")
waist: 24"-32"
Hip: up to 42"
Lenght 33" from shoulder to hem. (Mini Dress)

OOOO**The model in photo size is Shoulder 14.5" Chest 34" Waist 26" Hip 34"
----------------------------------------------------


****♥S H I P P I N G♥****
The item will be sent by 2 days after purchase with complete transaction including payment.
All packages shipped via registered air mail with tracking number via Thailand You can tracked on www.usps.com after the packages arrive in the U.S.
Normally customers can check tracking two weeks after the package is shipped.
*** Please note that package tracking is available in some countries.

Any international duties/customs fees are the responsibility of the buyer.

Additional shipping is also available,
please contact us then we will adjust shipping rates on your item and set up a reserved listing for you.

Shipping can take up to 2-3 weeks for any U.S destination,
2 weeks for any European destination.
And the time of arrival is approximate if you buy as a gift, kindly plan ahead to give shipping time.
.
****♥C L E A N I N G♥****
For first wash, please wash seperately. Please wash it in general temperature water. Try to avoid dryer as it might impact duration of graphic brightness. In case of using washing machine please put it in net.

****♥NOTE♥****
Before purchase, kindly read my shop policy at


**the color appear may vary on each computer screen due to each screen seting up.

Another beautiful product from our shop please check
http://www.etsy.com/shop/Amordress?ref=si_shop

Any question, please contact us before making purchase at "The contact button" on the right of this page

Thank you so much for stopping by.
$29.00
Find out more
Click here to Learn more...