Become Part of a Team That Gets These
Live Website Stats Started (Jan 5th, 2013)
imdopeent.com
stop searching right now and get your hits from here, you will not find it cheaper anywhere else….

just look around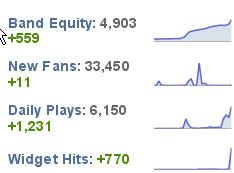 and make your page look like this…..
Requirements:
Your reverbnation page link…. Thats it
May Take 1-7 days, depends the days of the week, usually 2 days is all we need...
Posted with the eBay Android app