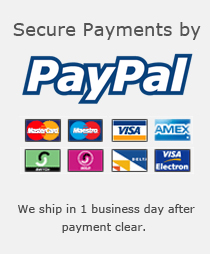 5 Heart Tea Light Candle Scented Floating Candle Wedding Party Favor Decor Blue
SKU: 14_T000114003661
Love burns up with these heart-shaped tea light candles. Give these tea light candles as heartfelt bridal shower favors or use as lovely table decorations to lighten up your wedding light. These delicately scented candles are perfect for weddings and parties dotted around the table.
Description:
Fabulous heart shape tea lights in clear plastic holders
Bring romance back with these beautiful tea light candles
Fill the air with an alluring sea breeze fragrance
Candles arrive in set of 5
Burning Time: 2 - 3 hours
Holder Size (L x W x H): Approx. 1.5 x 1.5 x 0.8 inch
Material: Paraffin wax, essential oil, antiflaming plastic holder
Color: Clear and blue

I am sure it the right thing you need now.
Don't hesitate, bid now and never miss it. You will receive a parcel contains as below.
5 x Heart Shape Candle (holders included)
Shipping And Handling Policy
The buyer is responsible for any applicable import duties and local taxes. Please verify with your customs before making your purchase.
Please verify your address during checkout. We are not responsible for any wrong or undeliverable addresses.