3 Pack HP 98 95 Remanufactured Ink Cartridge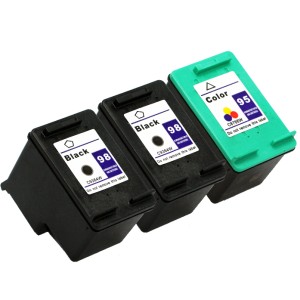 Specifications:


Product Name: 3

Pack HP 98 95 Remanufactured Ink Cartridge (C9364WN & C8766WN)

Ink Type: Pigment Based ink for Black cartridge. Dye Based ink for Color cartridge.


Page Yield: Black is 400 pages per cartridge. Color is 300 pages per cartridge.



Shelf Life:

2 Years


Compatible with:
HP Printer

Deskjet 5940

Officejet H470wbt

Officejet 6301

Officejet 6310xi

Photosmart C4110

Photosmart C4183

Photosmart D5069

Photosmart D5160

Photosmart 2575xi

Photosmart 8050

Deskjet 5940xi

Officejet 100

Officejet 6305

Officejet 6315

Photosmart C4140

Photosmart C4188

Photosmart D5100

Photosmart 2570

Photosmart 8030

Photosmart 8053

Officejet H470

Officejet 150

Officejet 6310

Officejet 6318

Photosmart C4150

Photosmart D5060

Photosmart D5145

Photosmart 2575

Photosmart 8038

Officejet H470b

Officejet 6300

Officejet 6310v

Photosmart C4100

Photosmart C4180

Photosmart D5065

Photosmart D5155

Photosmart 2575v

Photosmart 8049

About our Product:
Ready to use -

Our cartridges are pre-filled & ready to use.

Quality

Assurance -

Every cartridge is methodically tested by our team to ensure that you can print hassle-free.

Superior Quality Ink -

Our high quality UV resistant pigment-based ink and dye-based ink will yield superb quality print results.
2 - HP 98 Black Ink Cartridge (C9364WN)
1 - HP 95 Color Ink Cartridge (C8766WN)
We accept payments via PayPal and Credit Card

.
Shipping is FREE within the United States and Puerto Rico.

All items are shipped within 1 business day of payment via USPS First Class Mail.

Expedited shipping service via USPS Priority Mail is available at an additional charge.

All items are shipped to the PayPal registered address. If you wish to have the order shipped to a different address, please contact us prior to making payment.
We are a trusted Ebay seller and
we are fully committed to ensuring that you have a positive experience when purchasing from us. If you have any questions regarding your order or if you experience any issues, please contact us right away. We have a Customer Service team ready to answer all questions and resolve any issues. Please allow 24-48 hours for us to respond to your inquiry.

Please contact us on Ebay regarding full warranty details.
Buyers may return an item for a full refund within 60 days.

To return an item, please contact us first to receive a Return Merchandise Authorization (RMA) number and return address details.