PLEASE READ BEFORE BUYING OR BIDDING
I sell ONLY ORIGINAL items and NOT ANY reproductions.
This is a RARE full size ADVERTISEMENT from the year 1887, approx. size is 9 inches by 12 inches, is on a thick type paper, is very finely printed, it is in decent condition, and is from ASTOR HOUSE, NEW YORK, F. T. KEITH WAS MANAGER AND F. J. ALLEN WAS PROPRIETOR. VERY FINELY PRINTED. FREE SHIPPING to U.S. only.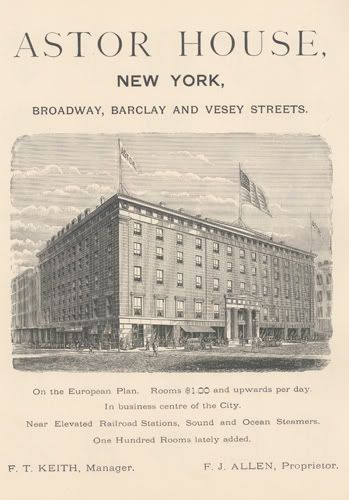 If you have any questions, please contact me
---
Terms & Conditions
PayPal PAYMENT DUE WITHIN 1 DAY OF THIS PURCHASE!

When you receive your item, PLEASE consider feed back (I will see it) and I will reciprocate feed back at that time.

Texas residents: For an undelayed delivery, PLEASE include the 8.25% sales tax, OR furnish a photo copy of resale certificate, OR please sign the proper paperwork and send it with your payment.

FREE SHIPPING
PLEASE view my other auctions and ebay store items for related ephemera, antique documents, and paper collectibles.
CLICK HERE!
THANK YOU VERY MUCH AND GOOD LUCK Y'ALL