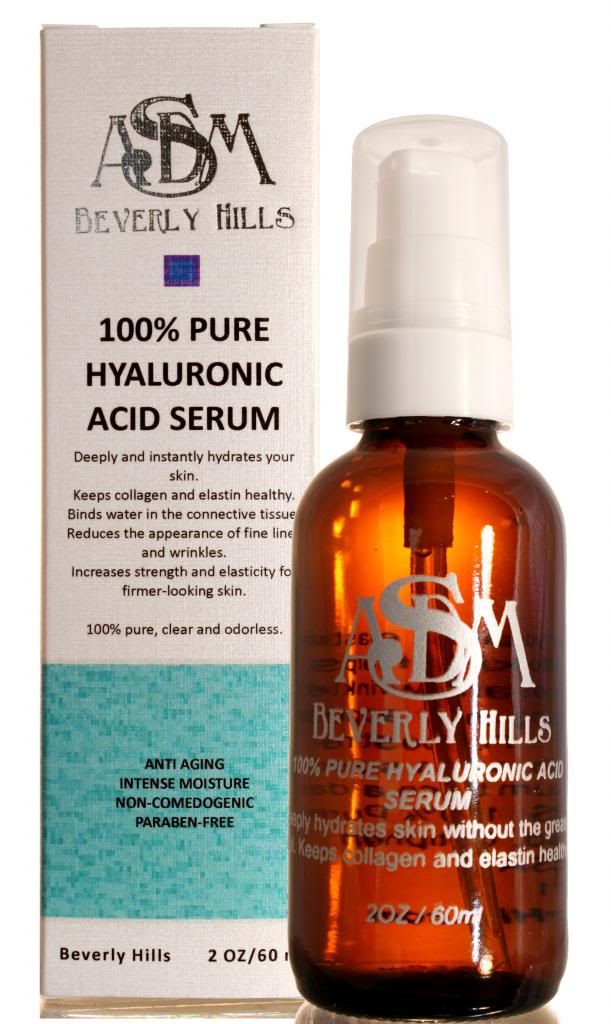 WHAT IT IS: ASDM Beverly Hills 100% Pure Hyaluronic Acid is able to permeate the skin and address ageing where it begins. Hyaluronic Acid (HA) is the key compound that keeps our skin youthful and hydrated. It is a natural substance produced by skin cells that keeps skin moist, supple and smooth. Binds to water molecules, holding up to 1000 times its weight in moisture. Keeps skin hydrated, elastic and youthful looking, helping to plump fine lines and wrinkles, thereby diminishing their appearance.
Paraben-free

hyaluronic acid

Sulfate-free

hyaluronic acid

No artificial dyes

hyaluronic acid

No artificial fragrance

hyaluronic acid
BENEFITS:
Plumps up the appearance of your skin.

Is the highest quality on the market.
Has deeper skin penetration than our competitors.

Assists with transporting other moisturizers further into the cell for bio-activity.

Preserves the integrity of the skin.

Maintains skin's natural beauty.

Benefits those who are seeing the first signs of aging.

Binds water in the connective tissue.

Reduces the appearance of fine lines and wrinkles
Increases strength and elasticity for firmer-looking skin.
INGREDIENTS: 100% Pure Hyaluronic Acid, Germall (natural preservative).

USAGE: After washing face as usual, apply 2 drops of serum morning and night. The serum rapidly penetrates the skin and leaves no oily residue after about 30 seconds. The dry and dullness of the skin disappears, revealing fresh and radiant skin. Make up and other cosmetics may be applied after the serum.
WHAT IS HYALURONIC ACID?
Hyaluronic Acid is naturally found in skin and abundant in youthful skin, Hyaluronic Acid depletes with age. Therefore it is important to give your skin extra Hyaluronic Acid for tissue hydration, lubrication and cellular function.

Product Details
Color: Clear
Texture: Thick Serum

FOR MAXIMUM RESULTS: Keep serum refrigerated